Bahamas Yacht Charter Guide
A paradise retreat of pristine beaches and colourful culture
A slice of tropical perfection, the exquisite and idyllic chain of islands that form the Bahamas offer unparalleled escapism and relaxation. The decadent cocktail of sun-drenched sands, remarkably clear waters teeming with colourful marine life, and landscapes of historic plantations create a picture-postcard destination.
Reasons to Visit
Bahamas
Diving and snorkelling
Idyllic beaches
Watersports
World-class golf courses
Vibrant festivals
Historic towns
Comprising more than 700 coral islands, the cruising grounds of the Bahamas archipelago offer a quintessential Caribbean charter experience within easy reach to the US mainland and the transport hubs of Florida. Generally shallow with many lagoons and bays only one or two metres at best, it is ideal cruising territory for yachts with a shallow draft or catamarans.
Less than 50 miles off the coast of Florida, the North Bahamas comprise the Bimini Islands, Grand Bahama Island, Moore's Island, and the Abaco Islands. From fabulous casinos and world-class golf courses to remote anchorages and lush landscapes, each island has its own distinct identity for enthralling days of island-hopping adventure.
To the north of the Biminis, Grand Bahama Island is a utopia for water-sports enthusiasts with its bustling cities of Freeport and Lucaya offering a host of exhilarating outdoor activities. The east coast of Grand Bahama has vast expanses of beautiful, isolated beaches and mysterious, submerged caves for you to explore. Abound with festivals all year-round; the streets come to life with wild and colourful parades and the pulsating rhythm of drums where every night is a party and every day more exciting than the last.
Lying in the south of the Bahamas, New Providence Island plays host to the Bahamian capital Nassau that retains a sense of the evocative charm the Caribbean held a century ago. Rich in culture and history, colonial architecture and Victorian houses line the streets where 17th-century pirates once ran riot.
When Christopher Columbus first set foot on the Island of San Salvador he is recorded to have said, "The beauty of these islands surpasses that of any other and as much as the day surpasses the night in splendour." Its diamond-white sands curve invitingly to the turquoise waters that lap the shore whilst lying in the depths off the coast, the reefs are opulent with marine life and hauntingly beautiful wrecks beg to be explored of incredible wrecks waiting to be explored.
Whether you are looking to lounge on palm-fringed white beaches, explore historic villages or try your hand at fishing, diving or sailing, the Bahamas offer it all.
If you feel inspired and want to start planning your next luxury vacation to this Caribbean hostpot, view the entire fleet of superyacht available or Bahamas yacht charters.
+  Read More
Explore areas within Bahamas:
Other areas within the Caribbean: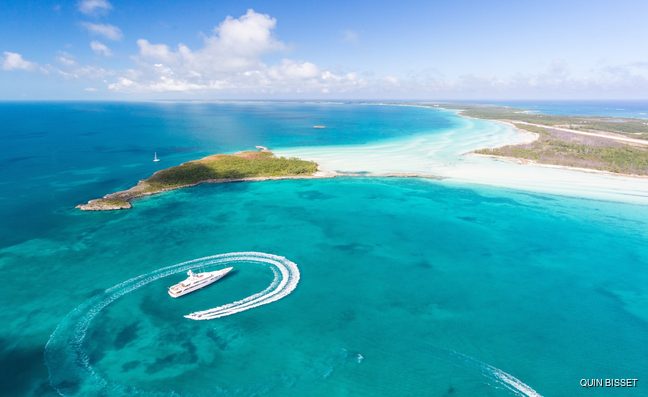 Coronavirus and Social Distancing Vacations: How to charter a yacht in the Bahamas
If you're considering a Social Distancing Yacht Charter for your next vacation as a result of the Coronavirus, the Bahamas is perfect for serenity and solitude at s...
---
Interested?
Start planning your tailor-made Caribbean vacation by contacting one of our specialists.
---