Caribbean Yacht Charter Guide
A picture perfect utopia
Saturated with sun, this dazzling location offers the epitome of a paradise vacation, with sugar white sun-kissed beaches, a warm climate and beautiful scenery all year round. The Caribbean offers abundant water sport opportunities, clear blue skies and inviting azure waters. This captivating location is brimmed with aquatic life which surrounds dozens of picturesque islands, each unique in character and charm.
Reasons to Visit
Caribbean
Diving and Snorkelling
Seafood Cuisine
Beach Barbeques
Marine Life
Fabulous Cruising Grounds
Nightlife
The Caribbean is an idyllic location for those longing for a chance to unwind in ultimate serenity. With a delectable year round climate and an over 7,000 lush islands to choose from, the Caribbean is a world renowned destination for luxury yacht charters. With each island different to the next, cruise from one to another whilst exploring the cultures, cuisine and landscapes of this tropical destination.
Often divided into five main areas, the Caribbean encompasses the Bahamas and Turks, the Leeward Islands, the Windward Islands, the Greater Antilles and the Leeward Antilles. From plush forestation to cloud-covered mountain summits, there is a diverse range of landscapes to admire. The Leeward Islands and the Windward Islands are often the most popular charter destinations and include St Martin, St Barts, Martinique, Saint Lucia, and Barbados in addition to the British Virgin Islands, which are ideal for sailing yacht charters, where guests can enjoy secluded anchorages, gourmet cuisine and barbecues on the beach in ultimate glamour and style.
On a Caribbean yacht charter, visitors can enjoy an abundance of activities in even the smallest of areas. With a thriving nightlife, lush rainforest, amazing diving opportunities and first class cuisine the Caribbean is a superb location with something to suit everyone.
The turquoise waters are overloaded with treasures, from miniature beach coral isles to extensive mountainous atolls radiating with rich and vibrant culture. Snorkellers can see clearly to the ocean floor, making for an enchanting encounter where marine life, mesmerising outcrops, reefs and wrecks flourish along the sea bed.
The best time to visit the Caribbean is between December and May, however warm temperatures, mild waters and gentle winds make the Caribbean a fantastic destination all year round. A luxury yacht charter in the Caribbean offers the ultimate escape from life on land into a nirvana of stunning islets and colourful cultures which cannot be found anywhere else.
If you are interested in a private crewed luxury yachting vacation in this tropical region view all Caribbean Superyacht Charters which are available to rent.
+  Read More
Explore areas within the Caribbean: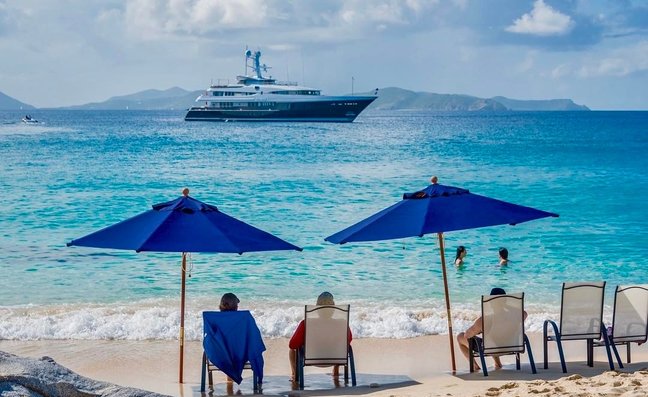 Bumper Caribbean yacht charter season predicted as Coronavirus travel restrictions relax
Social Distancing Yacht Charters in the Caribbean are expected to be highly popular this winter, signalling a promising future for superyacht charter amid the COVID...
---
Interested?
Start planning your tailor-made Caribbean vacation by contacting one of our specialists.
---