Staniel Cay Yacht Charter Guide
The Bond Attraction For Franchise Fans
Home to one of the most famous dive sites in the Bahamas, Staniel Cay is a priority when visiting the Exumas. Ideal for both beginners and experienced divers, the diving at Staniel Cay is an adventure not to be missed!
Reasons to Visit
Staniel Cay
Thunderball Grotto - the film fan mecca
Fully equipped marina to stock up your charter
Good For
Snorkeling
Marine Life
Nature
Diving
As an island in a very central location in the Exuma chain, Staniel Cay is easily accessible by charter. Though much of the island itself is privately owned and let out to vacationers, there is an open marina which is fully supplied to keep you stocked up for your journey through the islands.
Located on the west side of Staniel Cay is the location of the dive which is familiar to many film fans. Featured in In To The Blue and Splash, the grotto provides some exceptional scenery which is brimming with sea life. Despite being featured in these cinemised masterpieces, the grotto is most famous for being featured in two movies from the James Bond franchise. Appearing in both Never Say Never Again and Thunderball, the grotto aptly takes its name to place itself as a mecca for Bond fans.
Protected by the Bahamas National Trust Thunderball Grotto hosts some special qualities which make this dive the one you need to do when visiting the Bahamas. Taking a plunge inside the darkness of the cave you are welcomed by enchanting beams of sunlight which light up your path and all of the company surrounding you.
Thousands of colourful fish and coral are all around you. Taking a helping of breadcrumbs with you will entice many of the fish to come close to you so you can see their beauty in every detail. In addition to the fish you may have the chance to see a sea turtle, lobsters, angelfish or even an octopus.
Through every twist and turn within the grotto more beauty is revealed both over and under the water's surface. With the best time to dive being at low tide you can adventure through some of the many passageways through the monument to explore many caverns and a naturally eroded skylight.
Adjacent to Staniel Cay, the island of Harvey Cay is a prime location for deep sea fishing. With many varieties of marine creatures such as snapper, grouper, tuna and lobster, there are ample opportunities to catch or spear a fresh supper. Jump in to the warm waters to snorkel alongside some wild dolphins for a truly memorable experience.
Start planning your visit to Staniel Cay by viewing all the crewed superyachts available for Bahamas yacht charters.
+  Read More
---
Top Attractions & Experiences in Staniel CaySee All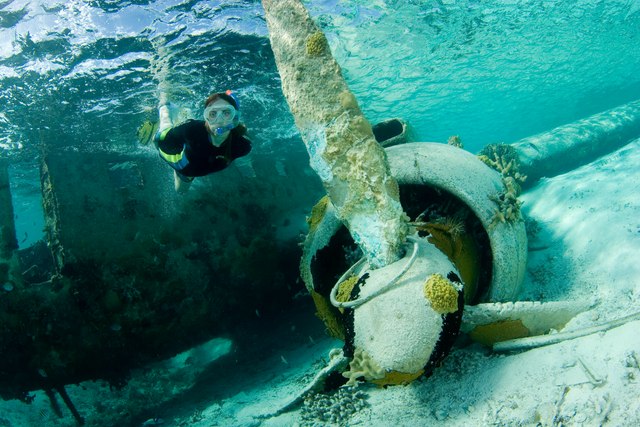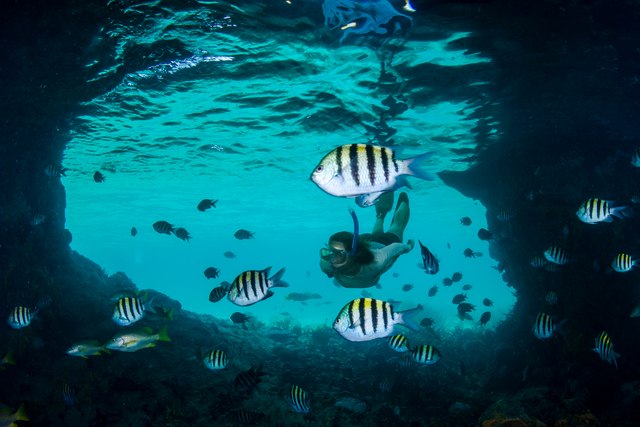 Interested?
Start planning your tailor-made Caribbean vacation by contacting one of our specialists.