Sicily Yacht Charter Guide
The wild heart of Europe
Encompassing a diverse mix of history and culture with stunning landscape scenery and intriguing hilltop villages, this Mediterranean Island boasts a melting pot of cultures. Although Sicily is an Italian island, it maintains a thoroughly independent sense of identity and has been profoundly influenced by a fusion of European, African and Asian cultures. This wonderfully scenic island boasts stunning natural beauty which is complemented by the warm and friendly people.
Reasons to Visit
Sicily
Ancient Ruins
Sightseeing
Mount Etna
Beautiful Beaches
History and Culture
City Life
Boutique Shopping
Located between mainland Italy and Tunisia, Italy's largest island boasts an intriguing history and exotic flare. The beautiful Sicilian countryside offers idyllic rural retreats whereas the hustle and bustle of Sicily's capital of Palermo features fantastic boutique shopping opportunities, baroque churches, and the beautiful Norman cathedral which offers unmissable awe-inspiring views. Built around a stunning natural harbour the imperial Palermo is rich in cultural history and charm.
Visit the picture-perfect hilltop town of Taormina, teetering above the coastline on atop Mount Tauro and bustling with restaurants and chic boutiques the buzz of this historical town is tangible. Set against a backdrop of astounding natural wonder, Mount Etna dominates the skyline whilst overlooking the hilltop town. Snow-capped and elusive, the volcanic mountain is one of Sicily's most notorious sights and has been known to wreak havoc on Catania below. The second largest city to Palermo, Catania sits at the foot of Mount Etna and boasts a medieval experience and an abundance of historic treasures.
Sicily is brimmed with iconic sights and ancient ruins which allude to the eventful history of a time passed. With beautifully preserved Greek temples to be adored in Agrigento and Selinunte and the extraordinary Necropolis of Pantalica to be explored, there are endless opportunities to soak up the ancient history of Sicily whilst the awe-inspiring natural beauty will leave you astounded.
For beach lovers, Sicily offers endless stretches of golden sands with one of the finest beaches being San Vito Lo Capo. Set in a curving bay and surrounding by stunning mountain scenery, the San Vito Lo Capo is a haven for lovers of sun, sea and sand. The Zingaro Nature Reserve lies at one end of the beach, boasting one of the most beautiful parts of Sicily with an assortment of trails leading to deserted coves.
Packed full of art treasures, stunning sights and historical landmarks, Sicily is not only famed for its ancient sites and beautiful beaches, but also for the mouth-watering cuisine and welcoming hospitality. The semi-tropical climate means the Sicilian landscape consists of lemon groves and pine forests, miles of glittering coastlines, quaint fishing villages and towering mountains framed by the dazzling blue sky. With so much to do and see here Sicily makes for the perfect place for your next luxury yacht charter vacation.
+  Read More
Other areas within the West Mediterranean: Deep dive: 10 of the best dive spots in the Mediterranean
Discover some of the most exciting and rewarding diving sites to visit on a Mediterranean yacht charter.
Interested?
Start planning your tailor-made Mediterranean vacation by contacting one of our specialists.
---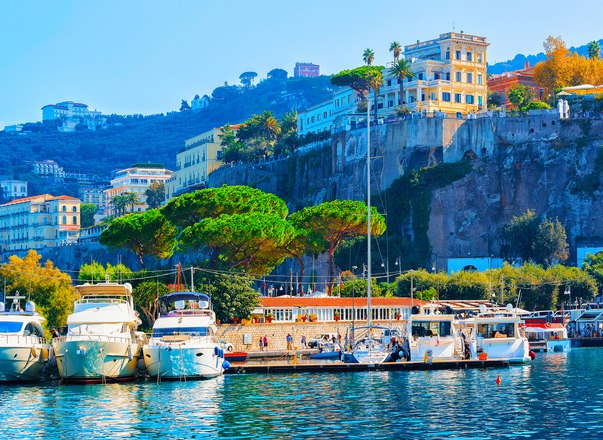 Italy tax update: Book now for summer 2021 and snap up a saving
The Italian authorities have confirmed that all charter contracts signed before 1 November 2020 will be charged at the previous VAT (value added rate) of 6.6%, rather than the soon-to-be-implemented rate of 22%- me...aning you can now book a yacht charter in Italy for next year and still benefit from the old scheme.
Read More