New Zealand Yacht Charter Guide
A vast natural theme park of rare, seismic beauty
Heart-pumping thrills abound within the untamed beauty and rich, varied heritage of New Zealand. From wine-tasting to white-water rafting, bush-walking to bungee jumping, here you will experience things you will never forget amongst semi-tropical beaches, yellow sulphurous lakes, hot, sandy beaches, steaming geysers and active volcanoes.
Reasons to Visit
New Zealand
Maori Culture
Marlborough Sounds
Winelands
Skiing
Adventure
Good For
Snorkeling
Nightlife
Monuments
Marine Life
Nature
Diving
Golf
Casino
Shopping
Fine Dining
Volcano
Anchorage
Mountains
Explore two remarkable destinations on one itinerary with New Zealand's two main islands – North Island and South Island creating endless choice for a fantastic tailor-made luxury yacht charter vacation. A mecca for adrenaline junkies and backpackers, its otherworldly peaks and spectacular valleys are no secret, yet modern cosmopolitan cities and world-renowned wines and restaurants appeals to visitors looking for luxury.
Embracing an astounding range of the world's landscapes in perfect harmony, the South Island's Norwegian-like fjords, snowy peaks and plunging waterfalls form an incredible landscape. The magnificent Southern Alps stretch much of the length of the island with exhilaratingly steep chutes and undulating terrain parks to the picture postcard backdrop of lakes Wakatipu and Wanaka.
Located at the tip of the South Island is Marlborough, one of New Zealand's principal yachting destinations. Cruise along the coastline of countless tree-lined inlets, exploring the Marlborough Sounds and secluded bays before stepping ashore to sample the famed green-lipped mussels, lobsters and scallops and the best Sauvignon Blanc in the world. Known as the adventure capital of the world, Queensland offers countless head-rush experiences and is the southern hemisphere's premier ski destination, whilst the gastronomic capital Wellington is abundant in chic bars, restaurants and cafés.
North Island is the quieter and more tranquil of the two islands, rich in yachting history and slick cities, its landscapes comprise of pristine lakes and gleaming white beaches. Raft through gorges and down waterfalls, take a helicopter to a remote section of the Kaituna River, sledge or river-board through breath-taking landscapes and twist and turn through its reaches by jet boat. From the lush forests and black mountains of the Cormandel peninsula to the glorious palm-fringed Ninety Mile Beach, even the most restless traveller will feel invigorated on a luxury yacht charter in the cruising grounds of this uplifting island.
Auckland is the largest Polynesian city in the world and is home to a plethora of shops and world-class restaurants. Step ashore from your superyacht to explore the iconic Auckland Harbour Bridge, and the decadent cuisine on offer with an adventurous mix of influences in Maori, Pacific, British and modern international.
If you are interested in a fully crewed private yachting vacation in the waters around New Zealand view all New Zealand Luxury Yacht Charters which are available to rent in this amazing country.
+  Read More
Other areas within the South Pacific: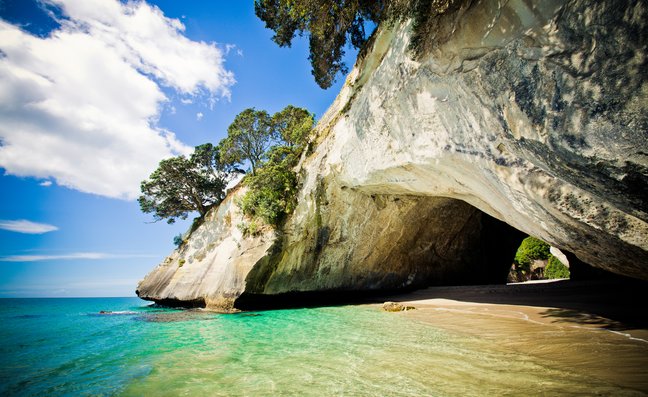 6 places to visit while cruising New Zealand's North Island by superyacht
From craggy coastlines and sweeping beaches to snow-capped mountains and verdant forests, New Zealand is a stunner. Charter a superyacht here and have an adventure ...
Interested?
Start planning your tailor-made South Pacific vacation by contacting one of our specialists.
---