Stavanger Yacht Charter Guide
A humble port town brimming with Norwegian charm
Perched in a southwesterly corner of Norway's coast, Stavanger is a quintessential Norwegian town filled with ancient tales and fairytale charm. Famous for its many attractions, both natural and man-made, any amount of time spent here during your Norwegian yacht charter vacation will be enriched by its proud history and magnificent landscapes.
Reasons to Visit
Stavanger
Brimming with Norwegian charm
Magnificent fjord landscape
Historical insights throughout
Interesting and interactive museums
Coveted hiking trails with outstanding views
Michelin-star fine dining
Good For
Monuments
Marine Life
Nature
Shopping
Fine Dining
Anchorage
Mountains
Founded in 1125, Stavanger was known for shipbuilding and fish canning until the 20th century, when oil was discovered in the North Sea. Since then it's been known globally as the Oil Capital of Norway, but rest assured, you won't see any hint of industrial operations while exploring the town. Instead you'll find charismatic houses, compelling museums, and dramatic natural vistas as you amble along the fascinating streets.
Perhaps one of the most well-known and beautiful areas of the town is 'Gamle Stavanger' or Old Stavanger. Found close to Vågen Harbour, this historic quarter boasts Europe's best preserved wooden houses. There are over 150 white buildings lining the meandering cobbled streets, providing a backdrop with vintage style street lamps, colourful flowers, and bright front doors, all of which make this protected area one of the best places to see during your trip to Stavanger. You'll feel as if you've taken a step back in time as you tread the narrow lanes, once populated with the workers of the sardine canning industry.
If history buffs are not satisfied there, they can learn more just a short distance from the picturesque old town. The Stavanger Maritime Museum will allow you to peek further into the town's history and learn what life was like during its ship building days. There are also two further museums which are well worth a visit, where the exhibitions are particularly interesting and surprisingly interactive. The Norwegian Canning Museum and the Norwegian Petroleum Museum are brilliantly engaging for children and adults alike, and you'll learn a lot about the rich history of the town in a fairly short space of time, as it doesn't take long to walk around these attractions.
For a break from the sights, head to the harbour overlooking the beautiful reflective waters of Vågen Bay. A few minutes walk from Old Stavanger, cafes and restaurants line the street and it's the perfect spot to stop for lunch. Admire the glittering waters of the bay, as you enjoy a sumptuous seafood lunch at Fisketorget, or partake in an Italian coffee and some people watching at Villa 22 Trattoria, as you while away an hour or two. While you explore the area don't forget to look down at your feet as you wander around the Path of Peace, and try to spot the tiles of footprints belonging to past Nobel Peace Prize winners.
A short walk from the quaint harbour area is Domkirke, Stavanger's recently restored medieval cathedral. Majestically rising above the charming Scandinavian buildings, its gothic architecture and colourful stained glass windows are imposingly beautiful. Domkirke is one of the most well maintained old churches in Norway and has been in constant use since the 1300s. A mere stone's throw away from here is Lake Breiavatnet, a man-made lake in the middle of Byparken with an impressive fountain. The two compliment each other exquisitely, and provide a serene haven in the centre of the town.
Norway's stunning fjords are, of course, one of the main attractions for visitors every year, and Stavanger's neighbouring Lysefjord is considered to be one of the most beautiful in the country. Boat tours are available, or sail your crewed yacht charter deep into the stunning region, where the sheer rock faces loom over you on both sides and roaring waterfalls plunge into the inky depths below.
The hike up to 'Preikestolen', or the Pulpit Rock, is one of the most popular in Norway, with visitors coming from all over the world purely to experience it for themselves. Admiring it from the confines of a boat on the waters below, doesn't compare to the exhilaration of standing on top of it after completing the 4 hour climb. Your reward is one of the most spectacular views in the world, and the entire experience will undoubtably be a memory you won't forget.
All the physical excitement during the day will undoubtedly put you in search of dining options, and the Michelin-starred RE-NAA will certainly satisfy your hunger. Providing a unique tasting journey across 20 servings, their menu is predominantly seafood and was created using the best produce available. If you're in the mood for sushi, Michelin-starred Sabi Omakase comes highly recommended. A smaller establishment with only 10 exclusive seats, it's a truly singular dining experience and one that you'll need to make reservations for.
The idyllic marina in Stavanger is situated close to the hub of the town and can accommodate yachts up to 60m in length and 3m in draught. From here you'll have convenient access to everything this quaint port town has to offer. To incorporate this authentically Norwegian town and it's stunning surrounding landscape into your next private yacht charter trip, take a look at the entire fleet of superyachts availble for Norway yacht charters.
+  Read More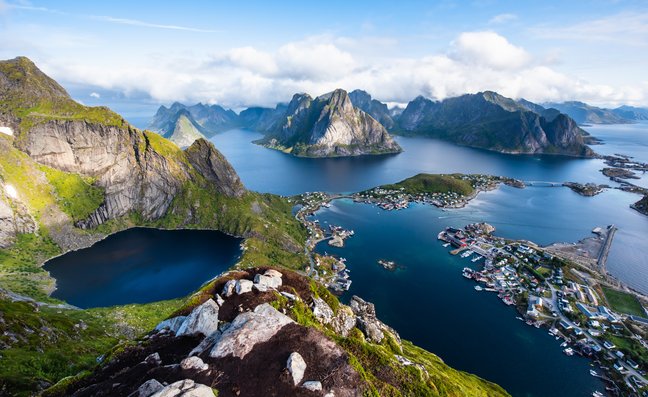 10 things you'll experience on a yacht charter in Norway
Norway is known for its dramatic fjords, colourful coastal towns and Scandi flair, but it also has some quirky national obsessions that make visiting on a superyach...
---
Interested?
Start planning your tailor-made Northern Europe vacation by contacting one of our specialists.