West Coast Italy Yacht Charter Guide
Renaissance opulence, lush vineyards and animated piazzas dressed in unmistakeable Italian Flair
Infinite in its appeal, the west coast of Italy infuses art-filled cities, wine-rich countryside and a spectacular tapestry of landscapes amongst volcanic headlands and sparkling seas. From Renaissance palaces and Baroque masterpieces to sun-drenched coves and terraced slopes, it simply glistens with opportunities for unforgettable experiences.
Reasons to Visit
West Coast Italy
Tuscan Vineyards
Varied Landscapes
Dazzling Natural Beauty
Ancient Monuments
Legendary Sites
Historical Cities
Stretching down from the Italian Riviera, a West Italy luxury yacht charter is ideal for a multi-centre itinerary that combines legendary cities such as Rome, islands including Capri, and the beautiful stretch of Amalfi Coast. It also provides easy access to the beautiful region of Tuscany, with its instantly-recognisable, unspoilt landscape strewn with countless Renaissance Madonna's and rolling vineyards. Marvel at the captivating medieval architecture of Siena, climb to the top of the Duomo in Florence or just sit back and indulge with a chilled glass of local Chianti after a leisurely day of wine tasting.
Lying off the coast of Tuscany is the beautiful Island of Elba, richly endowed with pine-clad mountains and curvaceous bays, and home to lustrous beaches. The hills are scattered with dazzling crystals from purple amethyst to green beryl, born from ancient ores and minerals that show themselves on the slopes of Mount Capanne. Another yachting hotspot off the west coast of Italy is the volcanic island of Ischia, blessed with sumptuous thermal springs and one of Europe's most renowned spa centres.
Not far from Ischa is Capri, which promises deep sapphire waters studded with superyachts, combined with luxury living on shore. Plenty of upscale restaurants, nightclubs and designer boutiques pepper the main town of Capri; but over on Anacapri, the rolling hills are quiet and untouched, offering a serene alternative to the buzz and glamour of Capri.
This cosmpolitan island sits on the end of the Amalfi Coast, and is the perfect finale to an an Amalfi Coast yacht charter. Begin in Ravello, exploring immaculate gardens and ancient architecture, before heading southwards to Positano. This romantic little town features piles of houses clinging to the hillside, and is filled with small cafes and delicious gelateries. After walking Positano's cobbled streets, head onwards to Sorrento, to ihnale the heady scent of lemon blossoms and discover excellent dive sites and bijou beaches.
Full of character and urban grit, the chaotic yet charming city of Naples is one of the coasts most satisfying luxury yacht charter destinations. The loudest and most intense city of the west coast, its enchantingly faded grandeur and colourful culture are an unmissable part of any Italian charter itinerary.
Finally, a West Italy superyacht vacation also offers the chance to see Rome. The exhilarating and classically romantic city of Rome is steeped in history amongst its myriad of Roman ruins, ancient monuments and magnificent churches and cathedrals. From the Colosseum to Vatican City, days are filled with a true sense of 'la Dolce Vita' enriched with fine wines and fabulous Italian cuisine eaten al fresco.
+  Read More
Other areas within the West Mediterranean: Time for Two: The most romantic destinations for a yacht charter
Whether you're planning a Valentine's Day vacation, an unforgettable honeymoon or just want to spend quality time with your nearest and dearest on a superyacht, we ...
---
Interested?
Start planning your tailor-made Mediterranean vacation by contacting one of our specialists.
---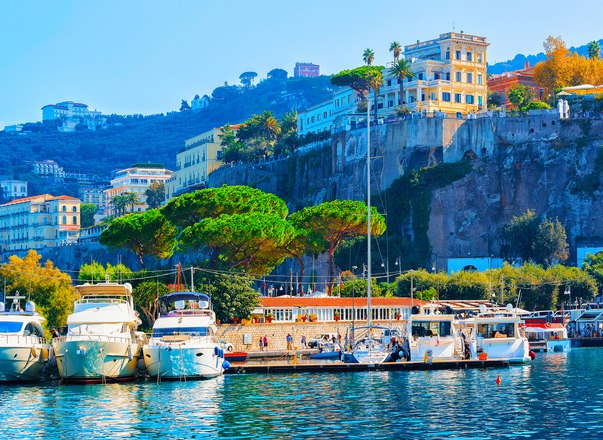 Italy tax update: Book now for summer 2021 and snap up a saving
The Italian authorities have confirmed that all charter contracts signed before 1 November 2020 will be charged at the previous VAT (value added rate) of 6.6%, rather than the soon-to-be-implemented rate of 22%- me...aning you can now book a yacht charter in Italy for next year and still benefit from the old scheme.
Read More