Flåm Yacht Charter Guide
Rich in pristine panoramas and unique experiences
Huddled between towering mountain faces and narrow valleys, the quaint village of Flåm is the ideal place to experience raw unspoilt nature at it's very best. Brimming with unique and memorable experiences, you'll discover many opportunities to immerse yourself in the stunning scenery surrounding the village, and plenty of chances to relax after an exhilarating day exploring the scenic sights.
Reasons to Visit
Flåm
Outstanding dramatic landscapes
Environmentally-friendly tourism
Quintessential Norwegian cuisine
Unrivalled scenic railway
Viking Settlement
Railway that passes 900 meters high
Good For
Nature
Fine Dining
Anchorage
Mountains
Undoubtedly the main attraction in Flåm is the Flåmsbana, a spectacularly scenic mountain railway hailed as the most beautiful train journey in the world. Snaking its ascent through the beautiful valleys and passing countless thunderous waterfalls, it will carry you from Aurlandsfjord to the mountain peak at Myrdal, bringing you to the vertiginous height of nearly 900 meters above sea level. The magical panoramas from such a high viewpoint are nothing short of magnificent, and you'll even get to enjoy a short photo stop at the majestic Kjosfossen waterfall.
Very few places in the world can rival the incredible beauty of Norway's fjords, and Flåm is the close neighbour to one of 2 fjords listed on the UNESCO World Heritage list; the magnificent Nærøyfjord. Glide through the narrow pathways between towering rock faces, and gaze in awe at the numerous waterfalls tumbling towards you from the large windows and walkways, making sure you go out on the top deck to maximise your experience.
After experiencing the magic of Nærøyfjord from the water's perspective, head up to Stegastein Viewpoint for the ultimate panorama of the region. Jutting out 30 metres from the side of the mountain and 650 metres above Aurlandsfjord, the staggering vistas, and dizzying heights will fully expose the mystical and otherworldly qualities of the dramatic landscape. 30 minutes drive from Flåm, a car or guided tour will be necessary to get to the viewpoint, but the journey is worth it to experience the best glimpse of a landscape that will astound you from the first moment.
If you're on the hunt for an adventure, the hike to Brekkefossen Waterfall is an ideal way to escape the crowds and be at one with this ruggedly stunning territory. The views at the top will more than makeup for enduring the steep climb. If you've already enjoyed a ride on the Flåmsbana, then you may have spotted this underrated waterfall during the journey, but up close it is exceptionally beautiful and an enjoyable attraction to add to your yacht charter itinerary.
The village of Flåm itself is quaint and small but caters well to the large amounts of tourists that descend upon it each year. There are plenty of places to eat and relax after an exhilarating day soaking up the sights, and the Fretheim Hotel comes highly recommended for a quintessential Norwegian meal. Boasting views over the fjord and a warm atmosphere, the menu offers creations using fresh, natural ingredients from local producers and farmers, and everything is cooked using a traditional method. Alternatively, step 1000 years back in time for a fun taste of the Viking era at Aegir, an award-winning craft brewery. Venture on a culinary discovery of Norse history, while sampling craft beers on a fur rug by the open fire. It's an experience you'll struggle to find elsewhere in the world.
If that taste of Viking history hasn't satisfied you, there is an authentic Viking village nearby to Flåm in Gudvangen, where you can learn all about their lifestyle, crafts and history. It is a truly unique experience where you'll get to meet real Vikings who choose to live in the same way as their ancestors once did. A real insight into the ancient times of beautiful Norway.
Flåm Marina is situated a mere stone's throw away from the hub of the small village and caters easily to large yachts up to 60m in length. Its convenient location is just a short walk to the Fretheim Hotel, where you'll find welcoming accommodation for your yacht charter party, whether you're travelling as part of a family, group or couple.
If you're feeling inspired to start planning your next crewed yacht charter trip to this incredible corner of the world, begin devising your itinerary by viewing and comparing the entire fleet of Norway charter yachts.
+  Read More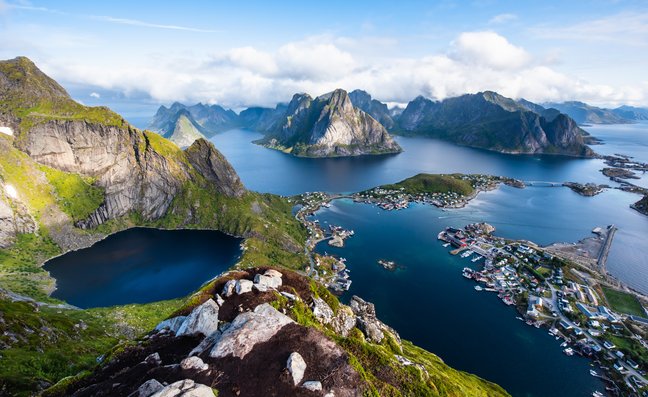 10 things you'll experience on a yacht charter in Norway
Norway is known for its dramatic fjords, colourful coastal towns and Scandi flair, but it also has some quirky national obsessions that make visiting on a superyach...
---
Top Attractions & Experiences in FlåmSee All
Interested?
Start planning your tailor-made Northern Europe vacation by contacting one of our specialists.