Tanzania Yacht Charter Guide
Idyllic beaches, epic wildlife and sublime landscapes in one
Tanzania is home to some heavy-hitting attractions: the Serengeti, Mount Kilimanjaro, the Ngorongoro Crater and the Great Migration. But there's more to this East African country than its epic wildlife and mind-blowing landmarks. For one, powdery white sand, sleepy coastal villages and day-dreamy islands make its bewitching Indian Ocean coastline perfect for blissful, off-the-beaten-track superyacht vacations.
Reasons to Visit
Tanzania
The big five
National parks
Mount Kilimanjaro
Untouched islands
World-class diving sites
Fascinating cultures
Good For
Snorkeling
Safari
Marine Life
Nature
Diving
Anchorage
The seemingly endless succession of beaches along Tanzania's 503-mile-long coast is a thing of beauty. Backed by palm trees and gigantic baobabs, pristine sandy stretches call for relaxation while wooden dhows and their billowing sails pepper the vivid blue waters and fish suppers can be enjoyed under fiery-hued sunsets. Once a sought-after stop on ancient trading routes between the Indian subcontinent and the Middle East, these shores are also steeped in historical and cultural riches and have been home to the Swahili people for centuries.
Another coastal draw is the Saadani National Park. Situated in the north, the wildlife sanctuary is the only one in Africa to border the ocean and projects focus on conserving elephants, primates and green turtles. Included in the park is the Zaraninge Rainforest, which shelters a diverse array of species, from leopards and hippos to eagles and kingfishers.
But the coast's most talked-about attraction is without a doubt Zanzibar, a beach paradise that never fails to live up to its hype. Yet, there are still some under-the-radar islands you won't regret putting on your itinerary. Top choices include coral-rich Mafia Island, the unspoilt oasis of Pemba Island and the exclusive Thanda Island.
Back on the mainland, discerning travellers will have the chance to see some of the continent's most legendary sites. Located in the north, these icons open up a wealth of opportunities for exploration and wildlife spotting, whether it's witnessing the annual migration of over two million wildebeest, zebras and gazelles in the Serengeti, tracking the big five in the Ngorongoro Crater, watching chimpanzees in Gombe Stream National Park or scaling the snow-covered peak of Mount Kilimanjaro.
But there is much to see and do in the rarely visited south too. Truly for intrepid travellers, the remote Ruaha National Park's Great Ruaha River attracts fierce predators such hyenas and lions while its sprawl of game reserves is home to huge elephant herds. Similarly, you can be one of only a handful to set foot in the Selous Game Reserve for sightings of elephants, buffalo, antelopes, wild dogs, hippos and crocodiles.
+  Read More
Other areas within East Africa: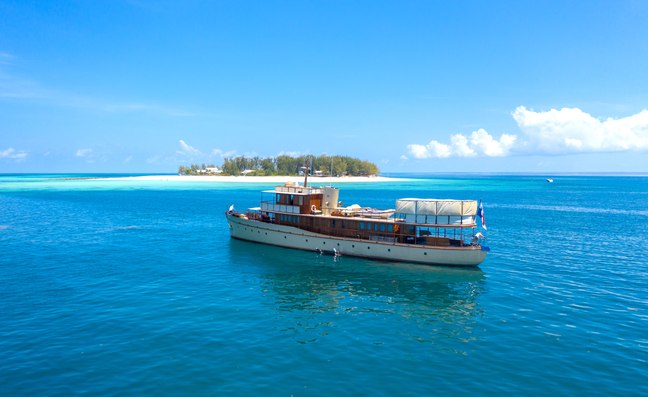 The Ultimate Combination: A private island retreat & luxury yacht adventure
Blending the serenity of a private island getaway with the adventure of an Indian Ocean yacht charter, Thanda Island's winning combination has created a once-in-a-l...
---
Interested?
Start planning your tailor-made Africa vacation by contacting one of our specialists.
---