South East Asia Yacht Charter Guide
An exotic medley of cultures, colour and ancient beauty
One of the most enchanting destinations in the world, Southeast Asia is encompassed by a myriad of nations and a melting pot of cultures, which will entice every visitor. Entwined with stunning scenery, glittering shorelines and vibrant architecture, Southeast Asia combines secluded serenity with enthralling adventure for an unforgettable charter vacation.
Reasons to Visit
South East Asia
Diving Adventures
Rural Retreats
Local Cuisine
Beautiful Beaches
Elusive Wildlife
Rich Cultural Heritage
Located to the east of India and to the south of China, Southeast Asia is lined with secluded islands, many of which are only accessible by sea, making this a haven for luxury yacht charters. Laced with archipelagos to the south and east, this captivating destination promises a treasure trove of friendly local people, excellent diving opportunities and untamed natural beauty. Inhabited by an assortment of people and cultures, this region offers a broad spectrum of experiences from the exotic wildlife of Myanmar (Burma) to the alluring pull of Singapore.
Myanmar (ex Burma)
Explore the largely undiscovered sights of Myanmar, with magnificent cruising grounds which are perfect for superyacht sailing. Rich in cultural history and radiated by spirituality, Myanmar is the ultimate escape from the western world.
Thailand
Sail along the south-western coastline of Thailand and revel in the glittering beaches and bustling cities of the world renowned 'land of smiles'. Cruise at your own pace along the stunning turquoise waters whilst exploring the coral beds and reefs, secluded lagoons and abundant marine life against a backdrop of tumbling emerald hills.
Cambodia & Vietnam
Discover ancient temples, glorious beaches and national parks in Cambodia before delving into the majestic splendour of Vietnam. Curved to the east coast of the Indochinese peninsula, Vietnam offers a wealth of adventures; from city life to rural retreats, this splendid country is brimmed with life. The charming and beautiful country of Laos is one of the most enthralling countries in Southeast Asia and is romantically deemed as 'the land of a million elephants'. Home to delicious local cuisine and colonial architecture, you may find it difficult to leave this laid back country.
Malaysia
To the core of Southeast Asia, visit Malaysia, to explore the blend of Chinese, Indian and native cultures. An idyllic location for diving, snorkelling and water adventures, Malaysia is an undoubted highlight of this enigmatic region. Experience the unforgettable and evocative orang-utan sanctuaries in Borneo before heading to Indonesia for some first-class surfing.

Singapore
Succumb to the magnetism of Singapore where the ultra-modern cities compliment an exotic fusion of cultures. A vibrant backdrop of colour illuminates this captivating country where the people are wholesome and the streets are sparkling.
The Philippines
With over 7,000 opulent isles to explore, the Philippines is the second largest archipelago on earth, providing opportunities to hop from one island to the next whilst discovering rural fishing villages, pristine beaches and cosmopolitan cities along the way. Saturated in rich Philippine culture, let the warmth of the Filipino people envelop you with their friendly nature and charm. Discover the breathtaking volcanic landscape of the Luzon Island and admire the spectacular rice terraces of Banaue, often regarded as the 'Eighth Wonder of the World'. No visit to the Philippines would be complete without a visit to one the world's greatest metropolises, Manila, where a tangible buzz radiates the bustling streets and the Spanish colonial history exudes an intense cultural heritage.
Southeast Asia is a breathtaking land of contrasts and an idyllic charter vacation where unforgettable memories can be made and delicious cuisine can be savoured.
+  Read More
Explore areas within South East Asia: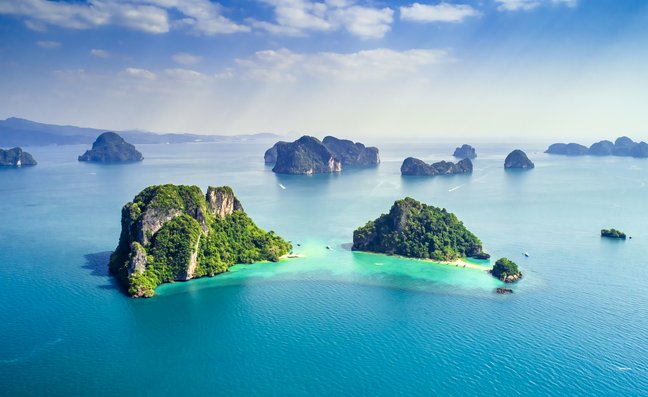 Find the perfect island for your next superyacht charter in Thailand
From Phuket to the Phi Phi islands, discover our pick of the best islands for your next Thailand yacht charter.
---
Interested?
Start planning your tailor-made South East Asia vacation by contacting one of our specialists.
---