Norway Yacht Charter Guide
An historic and colourful destination which calls out to all adventurers
Home to some of the best scenery to be found the world over, Norway treats her visitors to truly awe-inspiring views as they make their passage through her coastlines and fjords. Flanked by steep, dramatic mountains, the mainland also serves as a source of endless inspiration.
Reasons to Visit
Norway
Hugely Diverse Landscapes
Possesses the World's Largest Fjords
Home of the Northern Lights
Typically Calm Waters
An Abundance of Secluded Spots
With an island count comfortably in the tens of thousands, and a distinctly vibrant city life, Norway presents a wealth of opportunities when it comes to compiling a uniquely memorable charter itinerary. Indeed, as a firmly established yachting hub with a centuries-old marine tradition, Norway offers visitors the chance to enjoy the most sublime sights of Scandinavia both when underway and at anchor. A favoured destination amongst expedition yachts, Norway also benefits from a number of quiet bays which offer charterers the opportunity to vacation in total peace.
Providing something of a bustling alternative to the rolling rural landscapes surrounding the fjords, the city of Bergen is defined by the cosmopolitan vibe which pervades its historic streets. Located on the west coast of Norway, the city is populated by a number of boutique stores and restaurants as well as a number of quaint buildings preserved as part of a World Heritage Site. Due to being one of the smallest cities in Europe, visitors are able to easily take in Bergen's various charms in a relatively short period of time.
Getting out of Bergen and back into the iconic fjords is nicely straightforward, and it is here that the sheer tranquility of Norway can be felt. With over fifteen thousand miles of coastline being inhabited by less than five million, visitors are afforded a vast amount of space to enjoy their company and surroundings in a totally uninterrupted fashion. Expertly maintained, the Geiranger and Nærøy fjords are UNESCO-protected and boast an assortment of cascading waterfalls, mountain peaks, and even glaciers.
For more information regarding the luxury yachts available for charter in Norway, please get in touch with your preferred charter broker.
+  Read More
Other areas within Scandinavia: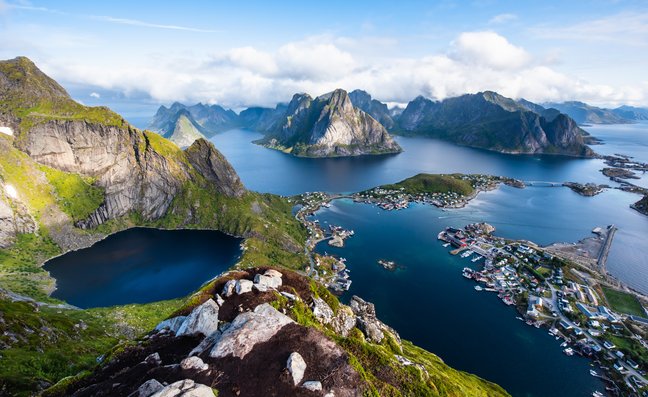 10 things you'll experience on a yacht charter in Norway
Norway is known for its dramatic fjords, colourful coastal towns and Scandi flair, but it also has some quirky national obsessions that make visiting on a superyach...
---
Interested?
Start planning your tailor-made Northern Europe vacation by contacting one of our specialists.
---