With its third annual yacht show generating unprecedented anticipation, two of its islands being ranked as top cruising destinations by the British press, and Santorini voted the best 'heavenly isle' in Europe, it would appear that Greece is set for a truly outstanding summer.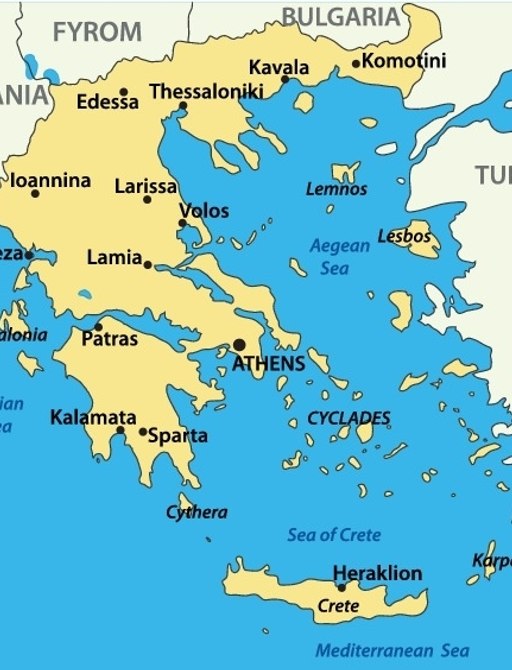 Whilst there have been concerns lately regarding the effect of the refugee crisis on Greece's tourism, it should be stressed that the dwindling influx is contained to a small number of islands closer to Lesbos, a considerable distance from the desirable chartering grounds and iconic attractions.
Indeed, as the map to the left shows, the situation is taking place far from any of the waters occupied by luxury yachts, and there's no reason to presume that the routes of charterer's would coincide with any of those involved in the crisis.
It should also be pointed out that the situation is being handled by only six of Greece's six thousand islands, and a resolution is expected to be brought about in the very near future.

What's more, the Greek government is undertaking a number of measures to allow for the economy and society of Greece to continue in an undisrupted fashion.
One of the greatest appeals of the Mediterranean, Greece has a marine tradition stretching all the way back to ancient times- whilst once primitive rafts would have been used to discover its islets and trace its various beautiful coastlines, it's now a preferred choice for those keen to sample the charms of both sailing yachts and motor yachts.
Incredibly accessible the world-over, Greece recently received glowing reports from both the Greek Tourism Confederation and World Tourism Organisation which both declared that its reputation as a renowned destination is likely to grow by the end of 2016.
So, whether it's the Cyclades Islands, the Ionian Islands, or mainland Greece which captures your imagination, there's arguably no better time to arrange for a luxury charter vacation in the surrounding waters.
Resplendent with traces of its uniquely fascinating history, and neigboured by a myriad of picturesque islands, it's no small surprise that Greece is an ideal destination for luxury charter vacations
With miles of crystalline waters and an abundance of quaint islands to choose from, Greece comfortably accommodates all kinds of luxury charter vacations- from those privileging action-packed watersports to those preferring relaxed cruising against a jaw-dropping backdrop.
Similarly, charter itineraries around Greece are able to finely balance the tranquil with the exciting. Starting out from Athens, for example, guests are able to enjoy a range of unspoiled beaches as well as a variety of outstanding restaurants and nightlife spots.
For those keen to get in on the action, Mykonos brings a similar atmosphere to Ibiza and St Tropez to the East Mediterranean, providing visitors the opportunity to indulge in a glamour which nicely recalls the spirit of those who originally discovered it in the 1960s.
It's not just the geography which is sure to satisfy the modern charterer, however. Indeed, with a world renowned cuisine offering up an endless amount of dishes to sample, and an inviting culture to get properly immersed in, Greece is entirely inexhaustible.
Of course, enjoying all of this is made all the more authentic by doing so on board a yacht. More precisely, there are currently yachts built by the Greek shipyard Golden Yachts available for charter in the area- this year, both the 53m/172ft motor yacht O'NEIRO and the 72m/235ft luxury yacht 'O'Pari 3' are both available over summer, for instance.
---