Milos Yacht Charter Guide
The volcanic 'island of colours' is captivating, unique and historic
Known as the 'island of colours', Milos sits proudly in the southwest of the Cyclades, setting itself apart with its lunar-like colourful rock formations and picture perfect villages. It boasts more than 75 beaches - more than any other island in the region and remains one of the most important historical remnants of ancient Greece.
Reasons to Visit
Milos
Beautiful volcanic rock formations
Important site for ancient Greek history
More than 75 gorgeous beaches
Colourful fishing villages
Lively summer festivals
As is the diversity of this circle of islands, centred by the popular superyacht spots of Mykonos, Santorini and Ios in the blue of the aegean Sea, Milos was created from volcanic lava. A primary source for rare minerals, the island's economy largely rests on mining which has contributed to a healthy offering of great restaurants and bars. Today is frequented by visitors from around the world, but with so many beaches, coves and villages to choose from along its spectacular coast you're sure to find a private sport of tranquility.
The island is famous in Greece as an important historical settlement and was once home to the famous statue of Venus of Milo (Aphrodite), the ancient Greek Goddess of Love and Beauty. The statue now finds its place in history protected within Paris' renowned Museum of Louvre but monuments such as the beautiful Venetian Castle of Milos and the ancient Catacombs of Milos near the village of Tripiti. There are also many churches scattered between the villages here as well as some museums to explore during time ashore from your yacht, including the Naval Museum which showcases the island's long maritime history.
Milos is also well known for its captivating and unique scenic beauty. The Caves of Kleftiko are amongst the most impressive sights to see, with their collection of wind-blown volcanic rocks dotted with smooth striking white arches popping out of the azure waters. The multitude of fishing villages are also a delight to behold - each embellished with blue trimmed terraces and flower bedded courtyards - with Andamandas and Kilma being must-sees when visiting here.
If you're looking for something a bit different to do during a charter itinerary in Greece then a number of festivals take place on Milos during the summer. These include the Festival of Milos which hosts cultural, artistic and traditional events. It begins annually on the first weekend of July and continues for a couple of months - a great way to experience the Mediterranean way of life.
In order to find out more about the itineraries possible around Milos, please get in touch with your preferred charter broker after taking a look at all of the superyachts available to rent in Greece.
+  Read More 11 unique beaches to visit on your next Mediterranean yacht charter
From pink sands to unique rock formations, the Mediterranean has no shortage of interesting and impressive beaches to visit as part of your next superyacht vacation...
---
Top Attractions & Experiences in MilosSee All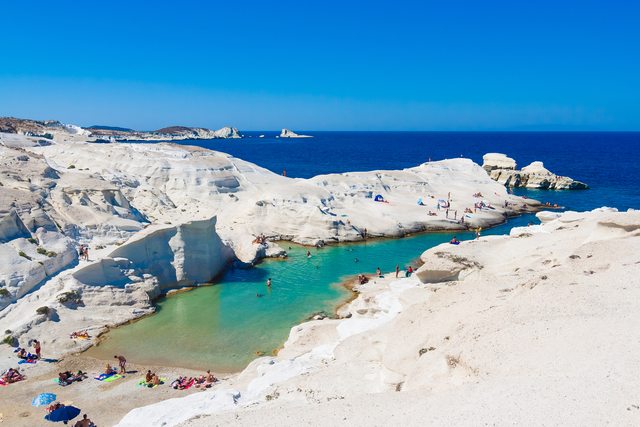 Interested?
Start planning your tailor-made Mediterranean vacation by contacting one of our specialists.
---