East Africa Yacht Charter Guide
A land of stupendous sights and unique encounters
Magical East Africa is a feast for all the senses. In this captivating corner of the planet, magnificent landscapes, extraordinary wildlife and enchanting cultures collide to create a travel experience unlike any other. Come here to track the big five and conquer imposing peaks before indulging in dashing coastal delights as part of a luxury yacht charter.
Reasons to Visit
East Africa
Golden sand beaches
World-class dive sites
Tropical islands
Safaris and wildlife tracking
National parks
Rich cultures and friendly locals
Diverse cuisine
Good For
Snorkeling
Safari
Marine Life
Nature
Diving
Volcano
Anchorage
Mountains
There is no doubt East Africa is the ultimate safari destination. Zebras, wildebeest and gazelles stampede across scorched savannahs, gorillas forage in the montane forests of Rwanda, hippos bask in Saadani National Park's mangrove swamps, elusive tree-climbing lions prowl Lake Manyara and elephant herds roam across the iconic safari circuit of northern Tanzania.
The list of creatures to inhabit these lands does not end here. Other big-hitters include leopards, cheetahs, hyenas and wild dogs. As such, the region abounds with wildlife-spotting opportunities. To take in the fascinating animals is also to immerse yourself in the region's untamed and utterly spell-binding landscapes. Among the must-sees are the Masai Mara, the Serengeti and the Ngorongoro Crater while mountains such as Kilimanjaro, Meru and the Rwenzori are impossible to miss.
There is much more to East Africa than its wonderful wildlife, however. Somehow the East Indian Ocean coastline has remained under the radar despite its dazzling beauty. Hammock-strewn, white sand beaches lapped by electric blue waters fulfil the definition of paradise for many while, off-shore, a wealth of rainbow-hued coral and tropical fish make the region a top diving spot. Exotic islands are also strewn across the sea, from the day-dreamy Zanzibar archipelago to eco-friendly escapes majoring in barefoot luxury to protected, untouched gems.
The coastline also has the intoxicating power to transport you back in time to the days when this part of the world was at the centre of a widespread trading network. African, Asian and Middle Eastern influences still permeate the coastal Swahili culture and, if you head further in land, there's more seductive cultures to experience, such as those of the red-shawled Maasai warriors in Maasailand and the ancient Hadzabe people of Lake Eyasi. The warmth and hospitality of the East African people are sure to leave you with some of your yachting vacation's most memorable moments.
+  Read More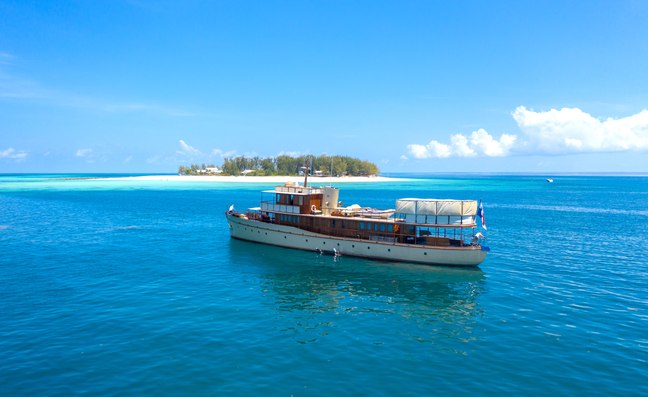 The Ultimate Combination: A private island retreat & luxury yacht adventure
Blending the serenity of a private island getaway with the adventure of an Indian Ocean yacht charter, Thanda Island's winning combination has created a once-in-a-l...
---
Interested?
Start planning your tailor-made Africa vacation by contacting one of our specialists.
---