Andaman Islands Yacht Charter Guide
Bright white sands, lush green forests and not a soul for miles around
Scattered across the ocean like pearl and sapphire drops are the 572 stunning islands that make up the Andaman archipelago.
Reasons to Visit
Andaman Islands
Snorkel in the waters of Elephant Beach on Havelock
Take a kayak out to watch the illuminated Bioluminescence waters
Take a sea plane to see views of the islands from above
Trek from Mt Harriet to Madhuban
As far as paradise settings go, these islands tick every box, from fine white sand beaches and crystal blue waters to unspoilt coral reefs. Yet their lush green forest-covered interiors ensure that adventure awaits when you get ashore. They can be found in the Bay of Bengal between India, to the west, and Myanmar, to the north and east some 1370km from the Indian mainland. This makes them India's most remote state and a mix of Asian, Southeast Asiana and Indian cultures.
Only around a dozen of the Andaman Islands are inhabited or open to visitors, while hundreds of others remain off-limits to visitors, including the Nicobar Islands, due to conservation and the population of indigenous tribes. The remote nature of these islands creates the perfect environment to enjoy them aboard a luxury charter yacht, where you are free to roam the spectacular coastlines and find your own private slice of paradise.
With such an expanse of waters that surround the Andaman Islands, there is no better way to explore than with a knowledgable superyacht Captain and crew on board. Most planes and boats arrive in Port Blair in South Andaman, which holds almost half the total population while the island of Havelock holds the biggest infrastructure for tourism. Watersports are abundant here, and beautiful underwater worlds draw in divers with some of the world's richest and least spoilt marine reserves.
The outlying islands are particularly beautiful and difficult to reach by anything other than boat with the beaches of Smith and the coral around Cinque of particular note well worth a visit. Inland you'll also be treated to unrivalled beauty and coverings of deep jungle that support a profusion of wildlife now being carefully protected from deforestation. If you are looking for adventure and relaxation in equal measure whilst reaping all the benefits of a luxury charter yacht, then the Andaman Islands should be next on your list.
To discover more about the kinds of superyachts available in this part of the world, be sure to browse all luxury yachts open to charter in the Indian Ocean.
+  Read More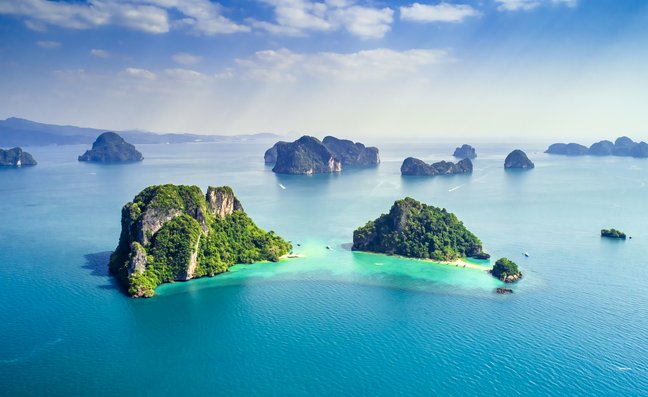 Find the perfect island for your next superyacht charter in Thailand
From Phuket to the Phi Phi islands, discover our pick of the best islands for your next Thailand yacht charter.
Interested?
Start planning your tailor-made Indian Ocean vacation by contacting one of our specialists.
---