Thanda Island Yacht Charter Guide
Your own private island retreat within a protected marine reserve
Rising up from the brilliant blue Indian Ocean, Thanda Island is an unspoilt oasis of polished barefoot luxury balanced by wild African charm. The private island serves as your own personal haven, surrounded by an undiscovered world waiting to be explored off the coast of Tanzania.
Reasons to Visit
Thanda Island
Private marine reserve
Spectacular dive sites
White-sand beaches
World-class luxury facilities
Swimming with whale sharks
Complete privacy
Good For
Snorkeling
Marine Life
Nature
Diving
Anchorage
Located on a stretch of ocean just 40km adrift from East Africa's mainland, Thanda Island occupies a slice of sea so verdant it was recently declared a marine reserve. It's the thriving aquatic wildlife, coupled with a heady combination of dazzling cyan seas and soft, sandy beaches blanketing the shores, that has epitomised Thanda Island as a tropical paradise.
Since its opening in 2016, the island has become one of the best-kept secrets among the jet-set elite. Spanning 8 hectares of land, the island can be traversed in under twenty minutes; but the wealth of amenities will certainly require a prolonged visit.
Choose to stay in the lofty Cape Cod-esque villas overlooking the glass-rimmed infinity pool, or opt for a more authentic stay in one of two traditional Swahili-style bandas composed of reclaimed wood and equipped with all the modern amenities a guest could need.
Days on the island can be spent making good use of Thanda's treasure trove of water toys and accessories, which ensure the kaleidoscopic underwater world encircling the island can be explored to the fullest. Kayak past black tip reef sharks darting in the shallows, or snorkel above hawksbill turtles, and observe them slope up the shores to lay their eggs in the sand. Round off the day with on-the-water thrills on the back of Jet-Skis and water-skis.
The island hosts plenty of excursions, allowing guests to explore their surrounds and make the most out of this untouched region. Expect long lunches on one of the remote, uninhabited islands nearby, or diving with the island's resident whale sharks, which idle in the waters most frequently between October and March.
A gym, expansive media room and spa and wellness facilities ensure everyone will be entertained and relaxed during their stay.
+  Read More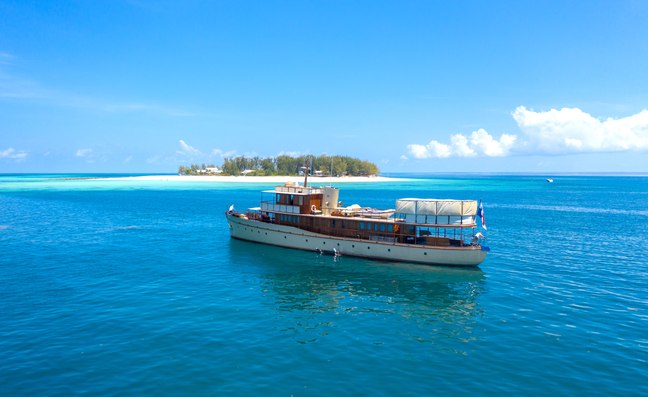 The Ultimate Combination: A private island retreat & luxury yacht adventure
Blending the serenity of a private island getaway with the adventure of an Indian Ocean yacht charter, Thanda Island's winning combination has created a once-in-a-l...
---
Interested?
Start planning your tailor-made Africa vacation by contacting one of our specialists.
---