Thailand Yacht Charter Guide
From mythical beaches to pearlescent sands; experience the fabled Far East
Laced with mythical landscape beauty and a resplendent culture of colour, Thailand is drenched in golden rays of sun and unparalleled in beauty. Secluded coves, ivory beaches and cosmopolitan cities make up this enticing land where life is laden with a timeless serenity. Thailand is the ultimate destination to awaken the senses and nourish the soul.
Reasons to Visit
Thailand
Buddhist Temples
Gorgeous Beaches
Charming People
Sea Gypsy Village
Beach Parties
Rooftop Restaurants
Flamboyant Nightlife
Snorkelling & Diving
Fire Dancers
Good For
Snorkeling
Safari
Monuments
Marine Life
Nature
Diving
Anchorage
Mountains
Imbued with diverse landscapes, resplendent treasures and gleaming Buddhist temples, Thailand is a yachting destination unlike any other. Suffused with influences from Chinese and Indian cultures, a yacht charter to the remarkable Far East boasts mouth-watering cuisine, tranquil retreats and paradisiacal hideaways.
Although tourism has claimed a lot of mainland Thailand, there is still an abundance of beaches, secluded coves and islands to explore on a superyacht charter which remain untouched by many travellers. Most superyacht charters focus on the Andaman Sea in and around the island of Phuket though the Gulf of Thailand can also be explored which includes Koh Samui and Koh Phangan.
Bangkok
The capital city of Bangkok is ripe for exploration with glittering palaces, magnificent temples and thriving night markets. This bustling city is home to an array of invigorating opportunities from rejuvenating day-spas to gastronomic delights of the highest calibre. Bangkok boasts the very best of vibrant modernity with cultural heritage making for a heady combination of bustling streets and a vibrant flamboyance.
Hua Hin
Saturated in sugar white beaches, glittering azure waters and gentle ocean winds, Hua Hin is a serene and indulgent escape. This chic seaside getaway is brimmed with opportunities for activity with championship golf courses, world renowned spas, horseback riding on the beach and elegant boutique shopping. This idyllic location is steeped in glamour and laced with a cosmopolitan charm.
Koh Phi Phi
This diving hotspot is a breathtaking destination of unmatched natural beauty. With teeming emerald waters thriving with marine life divers can explore the world beneath the waves whilst meandering around awe inspiring limestone cliff towers. The lustrous atmosphere welcomes eco-friendly travellers looking to immerse themselves into this glorious way of life.
Koh Samui
Koh Samui is the third largest island in Thailand, inundated with white sand beaches framed by swaying palms, dazzling green seas and picture prefect landscapes. Reputed for the notorious Full Moon celebrations, Koh Samui is a nature enthusiast's haven. With excellent spots for snorkelling and many secluded idylls, this enticing retreat is an enigmatic paradise.
Krabi
Krabi is the perfect destination for outdoor enthusiasts with water sports and mountain climbing aplenty. Radiated with a pulsing energy, the nightlife in Krabi is thriving with gorgeous beaches and astonishing cliff faces to be enjoyed during the day.
Phuket
Deemed as the 'undisputed pearl of Thailand', Phuket is the perfect hedonist getaway. The largest and by far the most popular, Phuket is peppered with pristine beaches and lush jungle and is swathed in colour. Lapped by the turquoise waters of the Andaman Sea, this unspoiled paradise is steeped in alluring architecture and a unique colonial history. Indulgent and untouched, Phuket is a wonderland. South of Phuket lies hundreds of islands, many of which are uninhabited which are perfect for exploring on a yacht charter.
If you are interested in a yachting vacation in the waters off Thailand or visiting the Andaman Islands view all Thailand Luxury Yacht Charters which are available to rent.
+  Read More
Other areas within South East Asia: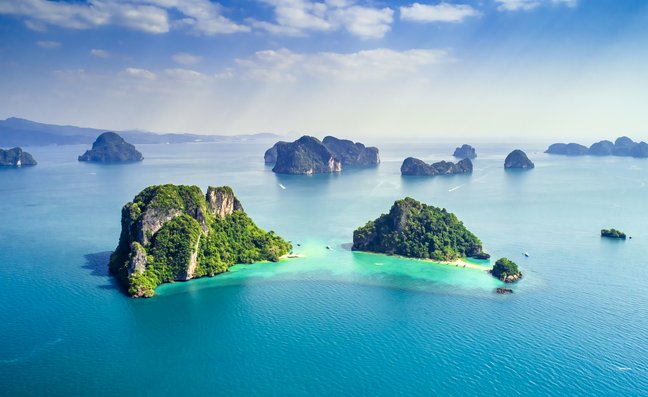 Find the perfect island for your next superyacht charter in Thailand
From Phuket to the Phi Phi islands, discover our pick of the best islands for your next Thailand yacht charter.
---
Interested?
Start planning your tailor-made South East Asia vacation by contacting one of our specialists.
---