Benetti Yachts Articles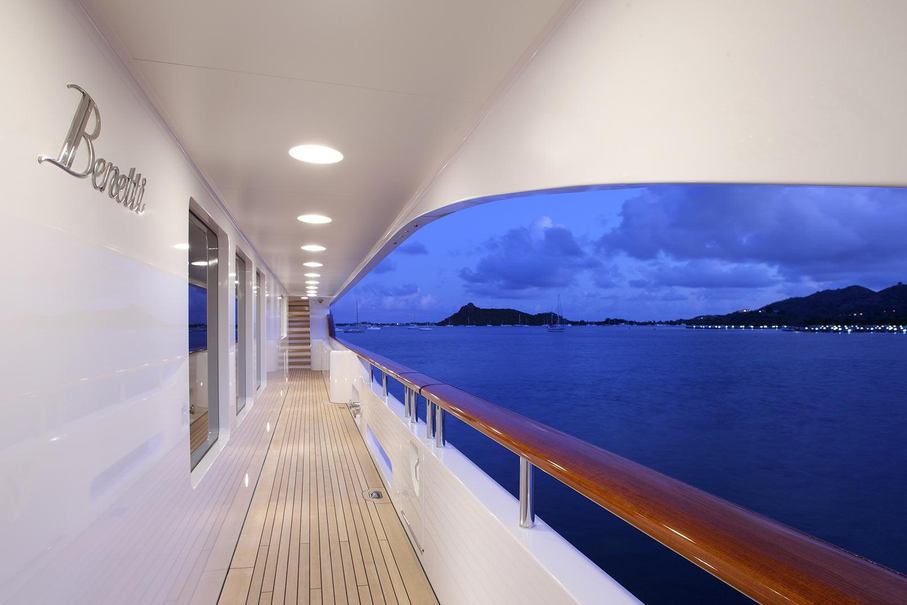 ST DAVID

Whatever the occasion, St DAVID offers the ultimate in luxury escapism

SEANNA

Full of surprises, SEANNA priorities family time, outdoor living and functionality

SILVER ANGEL

This glittering Benetti-build is a modern masterpiece of Art Deco design

'Ocean Paradise'

Futuristic design and quirky touches set OCEAN PARADISE apart from the crowd

STARFIRE

Benetti pedigree and signature style are behind STARFIRE's proven charter record

Charter Yacht MEAMINA Reduces Weekly Rate By 25%

29 December 2016

Offering a seriously attractive reduction on all charters taking place in South East Asia before 15th Janurary, the 59m/195ft motor yacht MEAMINA is the perfect choice for those after an exotic escape this winter.

Charter Yacht SKYLER Wins 'Best of the Best' Award

06 December 2017

Storming to victory at an awards ceremony hosted by the Robb Report China last week, the 38m/125ft motor yacht SKYLER was named the 'Best of the Best' in the category for yachts between 100-180ft.

Superyacht 11-11 Available For Selective Charters

21 July 2016

In an interview with Superyacht World earlier this year, the owner of the award-winning 63m/207ft motor yacht 11-11 revealed that the vessel will be open for 'very selective charters'.

Charter Yacht 'Illusion I' re-named 'Illusion V'

03 October 2014

Following her highly acclaimed world debut at last week's 2014 Monaco Yacht Show, it has now been announced that the 58m/190ft luxury charter yacht 'Illusion I' will now be known as 'Illusion V'.

Superyacht ULYSSES Lowers Charter Rate

08 April 2015

The 56m superyacht ULYSSES is reducing her weekly charter rate by approximately 10% for bookings in the Mediterranean during the second half of May.

Superyacht 'LIONESS V' joins the Charter Fleet

29 December 2015

The mystery will soon be over as the 208ft/63m superyacht LIONESS V announces its arrival to the charter fleet. As one of the most desirable and secretive deliveries from Benetti, there's no doubt the yacht will be a leading choice for charters in the new year.

Benetti Superyacht H New to Charter Market

23 September 2015

The new 42m/138ft Benetti motor yacht H is the latest addition to the charter market, and be available in the Caribbean for the upcoming 2015/16 winter season. She is additionally on display at this week's Monaco Yacht Show 2015.

Best Charter Offer Yet on Motor Yacht ULYSSES

05 August 2015

The Benetti motor yacht ULYSSES is offering the most significant discount yet on her standard charter rate, lowering her weekly rate by more than 20% to €200,000 for vacations in the French Riviera. At this time of year, she usually charters for a rate starting at €255,000 per week.

Motor Yacht DXB Joins Mediterranean Charter Fleet

01 June 2016

The recently refitted 35m/115ft luxury yacht DXB is the latest addition to the global charter fleet and will available this summer in Mediterranean hotspots such as the French Riviera.

QM of London Special Offer

06 June 2013

Following her recent €3.5 million refit, the striking 50m (163'8) motor yacht QM of London is now offering a special private jet charter package until the 1st July 2013.

M/Y SALU Last Minute Availability

30 August 2013

Due to a last minute cancellation, the 30.2m/99' charter yacht SALU is available from 2nd to 9th September (or longer) from Zakinthos to Kotor at a special rate of €40,000 per week with no delivery fees.

ENCHANTRESS Special Offer in the East Med

27 August 2013

Charter Yacht ENCHANTRESS is available in the stunning Eastern Mediterranean until October, free of delivery fees and at the reduced rate of €75,000 per week instead of €85,000.

Cannes Yachting Festival 2014 Opens

09 September 2014

Hundreds of the world's most impressive yachts have gathered in the city's Vieux Port and Port Pierre Canto for this year's Cannes Yachting Festival, taking place from September 9 to 14. As one of the most glamorous events to take place on the French Riviera, the 37th edition of the yachting festival promises to be the best yet - with 580 yachts reported to be in attendance this year. Find the best of the global charter fleet attending the show, including the recent Benetti build 'OCEAN PARADISE,' below.

Luxury Yacht Charters in Hong Kong

19 July 2013

Startling statistics come to light that the average time a Hong Kong-moored luxury yacht spends at sea is just 32 hours a year. The rest of the time, they sit ignored by their wealthy owners.

Caribbean Special Offer on Charter Yacht SWAN

13 January 2014

The magnificent 60m (196'10) Benetti motor yacht Swan is offering significantly reduced rates of $295,000 per week down from $420,000 per week for charters in the Caribbean from the 7th February until mid-April 2014.

Special Offer on Charter Yacht MEAMINA

06 January 2014

A fantastic Caribbean deal has been made available for the stunning 59m/195' motor yacht MEAMINA with either 10 days offered for the price of seven or 14 days for the price of 10.

Summer 2014 Charters on GALAXY

08 October 2013

The striking 56m/183' Benetti motor yacht GALAXY is now available for charter and can be booked for cruising vacations for summer 2014.

Charter Yacht NEW STAR in the Caribbean

30 September 2013

The 30m/99' motor yacht NEW STAR will be chartering in the Caribbean for the first this winter following her debut season in the East Mediterranean over the summer.

Mediterranean Offer on Benetti M/Y ULYSSES

11 August 2014

The striking 56m/184'superyacht ULYSSES is offering significantly reduced charter rates for the remainder of the Mediterranean charter season, now starting from €210,000 down from €255,000 per week.

SO! DALIAN First Event this Week

02 July 2014

Yachts from the global charter fleet are gathering at the DongGang Marina in the eastern port of Dalian in North China ready for the first edition of SO! DALIAN taking place from 3rd to 6th July. A host of events, such as the Beach Polo World Cup and marketing promotions will also take place.

'SEABLUE'Z' - 50% Off April Charters

02 April 2014

The 36.58m (120') Benetti charter yacht 'SEABLUE'Z' is offering a fantastic deal of 50% off charters embarking and disembarking in Golfe Juan in the South of France.

Dubai Boat Show 2014 - Day 1 Video

06 March 2014

The official video of Day 1 at the 2014 Dubai International Boat Show has been released, featuring highlights of the opening day at the Middle East's most anticipated superyacht meeting

Superyacht 'St David' Offers Charters for Euro 2016

20 May 2016

The 60m/197ft motor yacht 'St David' is open for charters along the French Riviera during UEFA Euro 2016 and is offering clients the chance to custom-make an itinerary to follow their team's football fixtures.

35 Metre Motor Yacht Aladina Available For Charter

02 August 2012

The 35m motor yacht Aladina offers extensive exterior deck space over three floors, including a sundeck with a spa pool. She has extensive audio visual equipment and an immaculate interior by Zuretti.

The 10 best brand new yachts to charter this summer

10 March 2020

The charter fleet is expanding, with a wide selection of brand new yachts set to join the world of private yacht charter. The majority are in the final stages of construction and are on course to charter in the Mediterranean this summer 2020.