San Remo Yacht Charter Guide
From the rustic riviera to hedonism with an Italian slant.
Known as the Riviera dei Fiori or Riviera of Flowers for its vibrant summer blooms, San Remo also holds a reputation as Italy's version of Monte Carlo. Its shiny, hedonistic, and full of riviera style grandeur makes for the perfect place to let your hair down and really indulge.
Reasons to Visit
San Remo
The pretty hilltop Gardens of Queen Elena
Watch the New Years Eve fireworks over Port Vecchio
Walk up to the iconic Madonna della Costa Sanctuary
See a Symphonic Orchestra performance at the Opera Theatre
Roll the die at the famous San Remo Casino
A popular stop-off on a Mediterranean yacht charter of the French Riviera or western coast of Italy, San Remo's most famous attraction is its casino but there is plenty more to see and do here. La Pigna - the Pinecone - is the oldest part of the city and scattered with charming winding streets that lead up a hill to be greeted by beautiful gardens along with pretty churches and squares. Above the La Pigna hilltop is the city's iconic Madonna della Costa Sanctuary - a beautiful domed sanctuary dating back to 1770, and boasting an intricate mosaic pathway.
San Remo is also famous for its annual festivals and music events, which, if timed well, can provide a fantastic memory as part of a luxury charter vacation. The year kicks off in style on New Years Eve, with an amazing display of fireworks over Port Vecchio - best viewed, of course, on the deck of a superyacht as the champagne flows through the night.
Its best known festival - the annual Italian Song Festival- is held in late February, followed by the European Music Festival in June, a rock festival in July, and jazz celebrations in August. October signals opera season in San Remo, and right through until May the Opera Theatre at the casino holds performances by the Symphonic Orchestra. The casino architecture is just as exciting as the activities taking place inside of it. This century-old building is a magnificent example of architecture and Liberty Art Deco, with the energy of a beating hub of the Mediterranean.

To find out about the current superyachting opportunities available in this part of the Italian Riviera, speak with your preferred charter broker after taking a look at all of the luxury crewed yachts for charter in Italy.
+  Read More
Other areas within the Italian Riviera:
Interested?
Start planning your tailor-made Mediterranean vacation by contacting one of our specialists.
---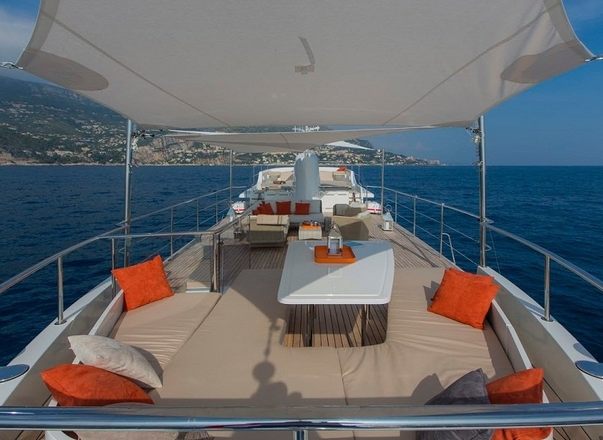 The 25.8m Feadship charter yacht Sultana is offering a reduced charter rate of €33,000 per week from the 1st September in the West Mediterranean.
Read More