The biggest event on the yachting calendar, the Monaco Yacht Show, is only a month away. This year's gathering of a hundred of the world's most exciting luxury yachts will see a fine selection of vessels arrive in Port Hercule to showcase their charter potential, and make their grand debut. Check out highlights from the preliminary line-up, including the award-winning megayacht SOLANDGE below.
SOLANDGE
The Lürssen 85m/279ft superyacht SOLANDGE is one of standout announcements in the Monaco line-up and was recognised at last year's show with the award for 'Best Exterior Design.' One of the most well-appointed yachts in the global charter fleet, she has numerous impressive amenities to check out at the show, including her panoramic owner's deck, swimming pool, chromatherapy spa, opulent interior by Rodriguez and Dolker & Voges, and removable dance floor on her sundeck. You may not realise as you look around, but she combines as many as 33 exotic woods and 49 different marble and granite surface throughout her floors.
Costing $1,000,000-a-week to charter, SOLANDGE can comfortable accommodate 12 guests in 8 staterooms on board, with an especially large crew of 29 to ensure all guests' requirements are taken care of. Zero Speed Stabilizers complete the luxury experience, ensuring excellent performance in all conditions.
SHERAKHAN
Notably chosen as the favourite charter yacht of brokers in a recent poll by Yachts International, classic yacht SHERAKHAN can notably sleep as many as 26 people in her 13 spacious cabins, featuring a master suite with its own private terrace and Jacuzzi. Measuring 70 metres (228ft), she maximises space to offer luxuries to rival the finest accommodation ashore, boasting an incredibly two-story salon and dining area with grand glass staircases.
Charter guests often favour her state-of-the-art spa area for a relaxing retreat indoors, with her sundeck - complete with swimming pool and several sun loungers - offering the perfect place to unwind and soak up the Mediterranean sunshine outside.
SUERTE
The first build from 'boutique' shipyard Tankoa Yachts, 69m/227ft eco-friendly motor yacht SUERTE is set to be a ground-breaking debut at this year's Monaco Yacht Show. The Francesco Paszkowski-designed superyacht is equipped with a 900-litre aquarium, a 16-person cinema and sauna with sea-views, throughout her Asian-themed interior by Margherita Casprini.
Travel to her sundeck for the pièce de résistance, a lavish mosaic-tiled and glass-bottomed swimming pool with a bar and waterfall with views of the owner's deck below. Read more about why SUERTE is one of the most exciting debuts at the 2015 Monaco Yacht Show here.
Lady Nag Nag
A recent addition to the global charter fleet, 52m/171ft superyacht 'Lady Nag Nag' became available for bookings in the Mediterranean last June. With exterior styling by the esteemed Tim Heywood, this pedigree Amels build, she is designed to maximise space for ease of entertaining or relaxation and boasts a sundeck Jacuzzi and al fresco dining area complete with a television.
Her modern, open-plan interior design is illuminated by the natural light from her large windows - the work of Laura Sessa Romboli. Offering Seabobs, kite surfers and the best scuba diving gear for an aquatic adventure, Lady Nag Nag is the complete charter package.
TWIZZLE
One of the impressive sailing yachts announced in the preliminary line-up, YachtCharterFleet were impressed by superyacht TWIZZLE when inspecting her last year - largely thanks to the diligence of her owner to ensuring she is in prime condition for charters. This multi-award winning yacht is a must see at the event, benefiting from a new hull and superstructure repaint and new main and mizzen sails earlier this year, she is one of the most well-appointed yachts on both the charter and sales market.
Showcasing exemplary exterior and chic interior design by Redman Whiteley Dixon, with naval architecture by the esteemed Dubois, she provides high performance cruising on behalf of her highly advanced sailing rigs. If you see anything on board this yacht, make it her mizzen mast, the tallest mast ever built in the world.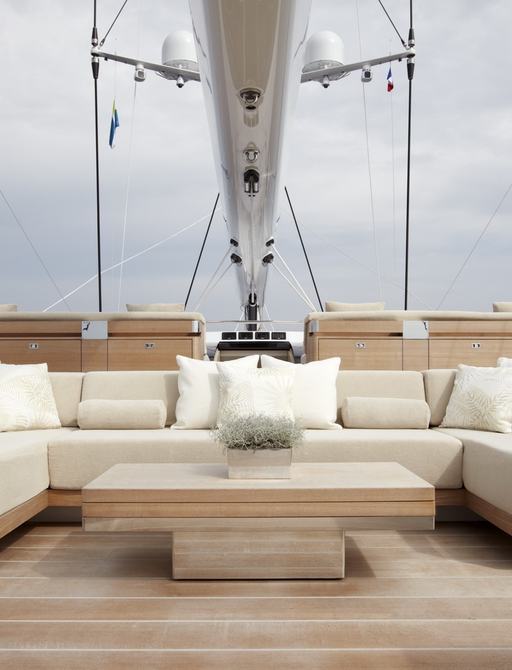 Silver Wind
The first yacht in existence to be use a water-jet propulsion powered by a hybrid diesel-electric system, motor yacht 'Silver Wind' was unquestionably one of the most exciting deliveries of 2014. Able to reach an impressive of top speed of 32 knots, she effectively reduces fuel and maintenance costs thanks to her low running hours.
Distinctive in Port Hercule by her striking silver hull and superstructure, inside, she carefully blends textures of exotic woods like Canaletto walnut, gold leaf and onyx with furnishings by Armani Casa and Hermès to create a sophisticated, modern environment on board – ideal for both entertaining or relaxing in style.
Martha Ann
Available for select charter, the 70m (230ft) superyacht 'Martha Ann' is widely considered a showpiece from the Lürssen shipyard. A collaboration from Espen Øeino and Zuretti, the elegance of her navy blue hull flows indoors with the sophistication of her use of marble, silk, gold and stone.
Amenities such as a 'sports deck' and her Jacuzzi spa pool with swim-up bar ensure there is no shortage of luxury on board for charter guests. With 13,000 square feet of interior volume, there is always something to see on board Martha Ann, all easily accessible from her striking glass elevator.
---