Announcing their plans for a larger facility in Amsterdam less than a month after their 84m/274ft superyacht SAVANNAH was named 'Motor Yacht of the Year', it would seem that 2016 is shaping up to be a marvelous year for the iconic Dutch shipyard.
Bringing the total number of Feadship facilities up to four, the construction and refit yard in the Western harbour area of Amsterdam will allow the estimable organisation to build motor yachts as long as 160m.
Expected to open in 2019- with bookings reportedly already in place- the site will considerably extend the reach of the leading brand. Indeed, Feadship's current largest yacht, the award-winning 102m/333ft charter yacht SYMPHONY, makes it fun to imagine what will be possible with an additional 50m to work with.
Whilst the capability of building lengthier yachts is assuredly exciting, it is no doubt the potential for a greater beam which is of greatest intrigue. Again, in their current facilities, Feadship's widest delivery to date is the privately owned 92m/302ft superyacht 'Royal Romance' which boasts a beam of 14.3m.
Keeping up with the demand for wider and larger yachts, the decision to construct a new facility will no doubt ensure that Feadship continues to remain at the forefront of the superyachting industry.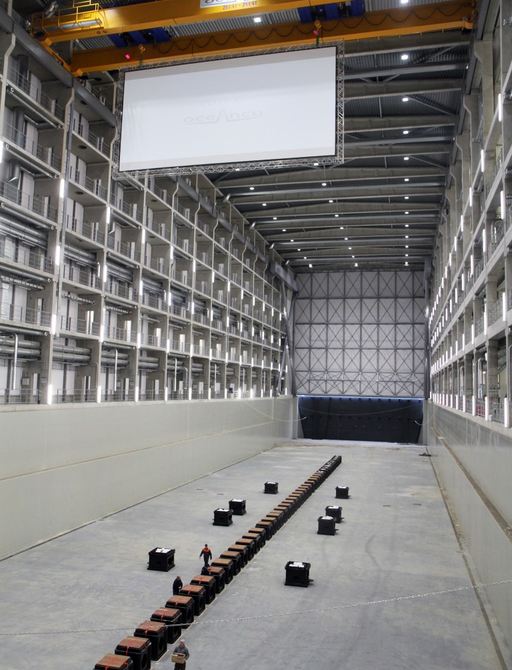 To provide a greater indication of the scale of the forthcoming Amsterdam facility, consider how the maximum yacht length available in the Oceanco shed in Alblasserdam (pictured left) is 140 metres to Feadship's 160M.
Featuring a similar dry-dock to the one pictured, the new shed is 28 metres high and will allow Feadship builders to construct vessels to similar dimensions being carried out by other popular Dutch shipyards.
Again, it's worth reiterating that the option for an even larger beam will be of extreme importance for Feadship, as the need for a generous width is popular amongst clients.
Due to its location, the yard will be free from the constraints which are currently being faced at other facilities, and delivering wider vessels will be possible with great ease.
With the ability to build even bigger and wider superyachts, the potential of Feadship will of course grow in direct proportion and usher in a truly exciting new era
Forever on the cusp of cutting edge design, both SYMPHONY and SAVANNAH are testament to the pioneering talents fostered by the Dutch shipyard when it comes to larger superyachts.
Currently training a wealth of even more skilled yacht builders, Feadship's new facility is therefore good news for the global economy, too.
Indeed, in order to remain steadfast to their commitment towards outstanding quality and consistency, the company has taken on a number of apprentices to match workmanship with demand.
With the foundations being laid this summer, and construction set to begin early next year, the Amsterdam yard will also include ten individual workshops to efficiently undertake the necessary work.
As the first build is reportedly scheduled, we may expect to see the first launch and delivery take place sometime during 2020.
As more details are released, YachtCharterFleet will be sure to provide extensive coverage.
---