When it comes to enjoying a vacation on board a motor yacht, it doesn't get much better than doing so on board one which has only just been delivered from the shipyard. Indeed, to be amongst the first to enjoy a brand new superyacht is a unique experience which doesn't come around all that often.
With this in mind, it's all but certain that superyacht Here Comes The Sun will attract plenty of interest after it was revealed that she will be open for charter vacations in the Mediterranean this summer.
'I look upon the Amels 272 as a classic design which, if she ages at all, will grow old gracefully
Built for an experienced owner who previously owned an award-winning Amels 212 superyacht, Here Comes The Sun sees the return of a critically appraised team. Indeed, for the step-up, the owner has once again entrusted Tim Heywood with exterior styling and Andrew Winch with interior design.
This dream team have ultimately appointed the spaces with a dedicated movie theatre, a serenely decorated wellness centre, and a generously proportioned main salon. Altogether, this emphasis on social activities make her ideal for parties of both friends and families.
For those more inclined towards getting out on the water, she also boats an enormous beach club with retractable terraces to ensure that accessing the toys and tenders can be done effortlessly.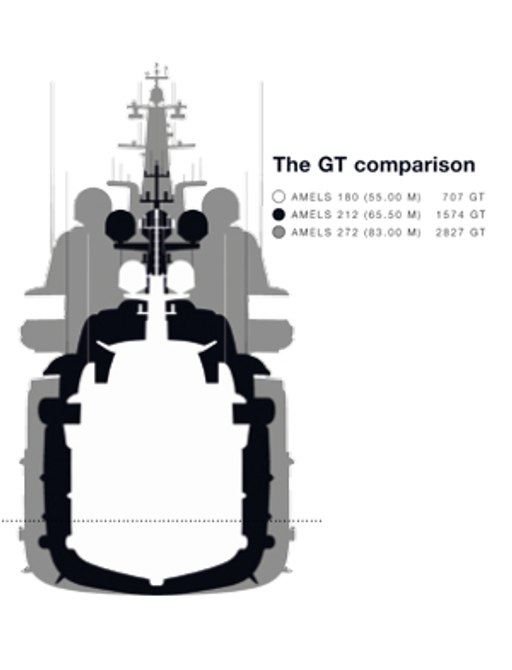 The largest Amels superyacht built to date, Here Comes The Sun is the first hull in the Amels 242 range. Almost ten metres longer than the award-winning 74m/241ft motor yacht 'Plvs Vltra' which was delivered from the shipyard last year, the motor yacht is also one of the largest available for charter.
Not only large by the measurement of her length overall (LOA), she also boasts a gross tonnage (GT) which provides her with a spaciousness equivalent to 80-90m superyachts which are open for charter.
Calculated by applying a formula to the dimensions of a superyacht, the gross tonnage ultimately gives an indication of how much space is available on board.
As the diagram on the left demonstrates, Here Comes The Sun (represented in dark grey) is large enough to contain an Amels 212 as well as an Amels 180.
As the graph below indicates, luxury yacht Here Comes The Sun is also longer and taller than the superyachts found in the alternative Amels ranges.
Putting such impressive size to good use, a touch and go helipad has been installed on the bow whilst an infinity pool frames the main deck aft.
In order to provide a greater convenience when getting between the various spaces, an elevator is also available to service each of the decks.
Reflecting on the overall look and feel of Here Comes The Sun, Tim Heywood, the designer responsible for her exterior, said: 'I look upon the Amels 272 as a classic design which, if she ages at all, will grow old gracefully'.
---