Nafplion Yacht Charter Guide
The beautiful and iconic first capital of Greece
Bucolic, charming and set to an astonishing backdrop, the historic town of Nafplion represents the heart of Greek culture, combining myth and legend with modern cosmopolitan lifestyle.
Reasons to Visit
Nafplion
First Capital of Greece
Beautiful Venetian architecture
Important historical landmarks
Chic waterfront restaurants
Traditional Greek tavernas
Magnificent Palamidi Fortress
Situated in the idyllic northeast Peloponnese, Nafplion (otherwise known as Nafplio or Nauplion) is the capital of Argolis and was the first capital of Greece. As such it is one of the most well-known cities in the country and is widely considered as one of the most beautiful in the Mediterranean. According to legend, the city takes its name from its founder – Nauplios, the son of Poseidon and Amimoni and has since been ruled by some of the most important figures in Greek history.
A series of occupations over the course of time have contributed to its uniquely beautiful architecture and busy, well-equipped port. One of the most significant influences within the city derives from several Venetian settlements dating back to the 15th Century which have resulted in a collection of beautiful Italian stone façade buildings lining the old town piazza. This area creates a historical centre from which a labyrinth of café lined streets wind up into the hills.
Whether spending a week or a weekend, there is plenty to keep you occupied in Nafplion and a fantastic selection of bars and restaurants open late into the night. Perched above the town on a spectacular 216m-high outcrop of rock is the majestic Palamidi Fortress which has been widely recognised as a masterpiece of military architecture. A visit here is a must as the views out over Nafplion are truly unrivalled, where a patchwork of terracotta rooftops meet the turquoise blue of the Argolic Gulf.
If you are interested in booking a superyacht vacation in Nafplion, take a look at the full selection of yachts available for charter in Greece and contact your charter broker for more information.
+  Read More Time for Two: The most romantic destinations for a yacht charter
Whether you're planning a Valentine's Day vacation, an unforgettable honeymoon or just want to spend quality time with your nearest and dearest on a superyacht, we ...
Interested?
Start planning your tailor-made Mediterranean vacation by contacting one of our specialists.
---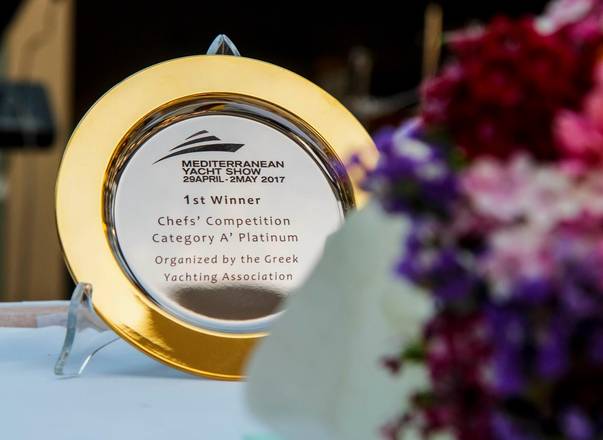 Winners of the 2017 MEDYS Chefs' Competition
The highly-anticipated Chefs' Competition at the 2017 Mediterranean Yacht Show displayed the finest culinary talents as competing chefs wowed the panel of judges with their creations of 'raw food dishes using Greek... products'.
Read More