Antarctica Yacht Charter Guide
A frozen paradise teeming with glittering glaciers and extraordinary wildlife
Otherworldly and magnificent, the White Continent of Antarctica is a land where the wilderness of winter lingers and time appears to stand still, creating an outstanding spectacle of unmatched natural beauty. A yacht charter is the ultimate way to explore this enticing and majestic location and every year, charterers succumb to the haunting allure of Antarctica.
Reasons to Visit
Antarctica
Whale Watching
Penguin Colonies
Bird Watching
Arctic Wildlife
Alluring Icebergs
Blanketed with ice and largely unspoiled by humans, the pristine land of Antarctica offers some of the most beautiful sights in the world. Sleepy icebergs lace the cobalt glacial waters whilst the glittering alabaster shorelines teem with Antarctic wildlife which remains unabashed by the presence of visitors. Gaze in awe as colonies of penguins and herds of seals revel in their natural habitat, going about their day to day routines without acknowledging onlookers, making for a truly marvellous display of nature at its best. With opportunities for whale watching and bird watching, Antarctica is a haven for lovers of the outdoors.
Abound with some of the most beautiful seascapes in the world, cruise amongst towering icebergs and explore the moody and desolate solitude of this majestic wonderland. Admire the icebergs in their multitude of shapes as you venture towards Deception Island. Deemed as one of the most incredible islands in the world, this stunning location lies in the South Shetlands, off the Antarctic Peninsula and offers perfectly sheltered waters. This caldera of an active volcano has one of the safest natural harbours and boasts glacial scenery and awe-inspiring views which are simply unmissable.
Further south, cruise along the narrow waterway of the Lemaire Channel, an undoubted highlight of any Antarctica yacht charter. Framed by Antarctic cliffs and the rugged coastlines of Booth Island this picturesque location has been dubbed as the 'Kodak Gap' and for good reason. The protected waters in this secluded cove are often as still as a lake making for comfortable, tranquil cruising as you admire the inspiring humpback whales in one of their favoured feeding grounds.
An experienced crew and sturdy vessel are necessities for any yacht charter to Antarctica as the power of nature can make this a challenging yet immensely rewarding charter destination. As the climate and ice command the time in Antarctica, clocks and calendars have no place, meaning every explorer is at the mercy of the continent's dispositions and weather patterns. The best time to visit is between November and March, when temperatures generally remain between 20 and 35 degrees Fahrenheit and sunlight can last for 20 or more hours a day.
Antarctica promises to surpass all expectations and guarantees to offer much more than you could ever imagine. In this pristine solitude it is inconceivable to witness the species who have survived here against the harsh conditions of wind and cold in addition to fishing, mountaineering and diving opportunities.
Antarctica is nothing short of a majestic wonderland, a place which upon visited will leave its visitors forever changed.
+  Read More Antarctica: A superyacht vacation of a lifetime
With majestic landscapes, incredible wildlife and a sublime remoteness, Antarctica is the ultimate destination for intrepid travellers looking for a one-of-a-kind l...
Interested?
Start planning your tailor-made Antarctica vacation by contacting one of our specialists.
---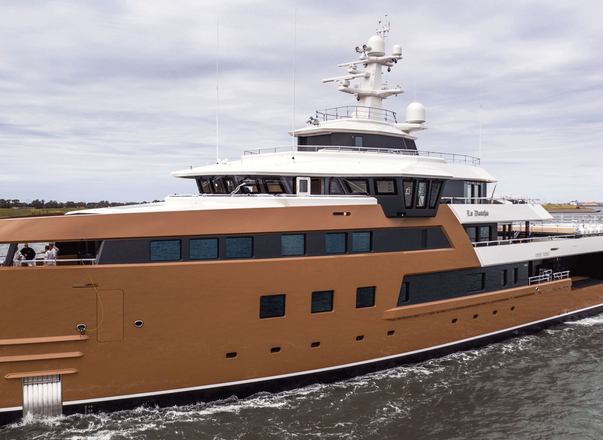 Delivered: Explorer yacht 'La Datcha'
Equipped with an on-board submarine and accommodation for two helicopters, the 77m (253ft) expedition yacht La Datcha has left Damen's facilities as one of the most capable and luxurious explorer yachts for charter... in the world.
Read More