Yacht Charter Diving Explained
Chartering a crewed yacht which specializes in diving is an ideal, yet relatively unknown vacation option for experienced dive travellers. After years of being funneled into large group trips to resorts or to liveaboard dive "cattleboats", many divers are looking for an alternative. A dive vacation aboard a crewed charter yacht offers privacy, custom-tailored schedules, one-on-one service, personal instruction if necessary, and the ability to choose dive sites to suit your interests.
A dive charter is also an excellent choice for novices. Beginners especially benefit from the individualized attention, pressure-free training schedules, patience, personal guides, and the one-on-one service that characterize dive charter yachts.
All members of the charter party do not need to be divers to have an enjoyable vacation. Non-divers will not be bored as most charter yachts offering diving also have 'on water' toys such as towable inflatables, jet ski, water skis and kayaks.
There are three basic ways we recommend that you can choose to mix scuba diving with a crewed charter yacht vacation.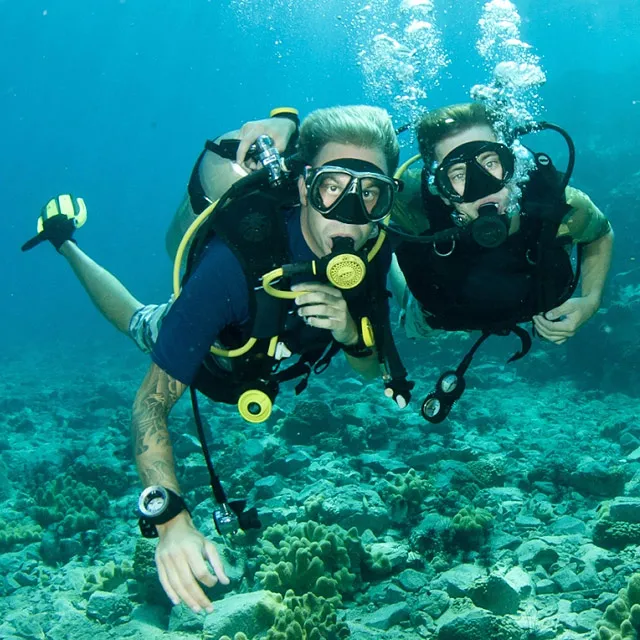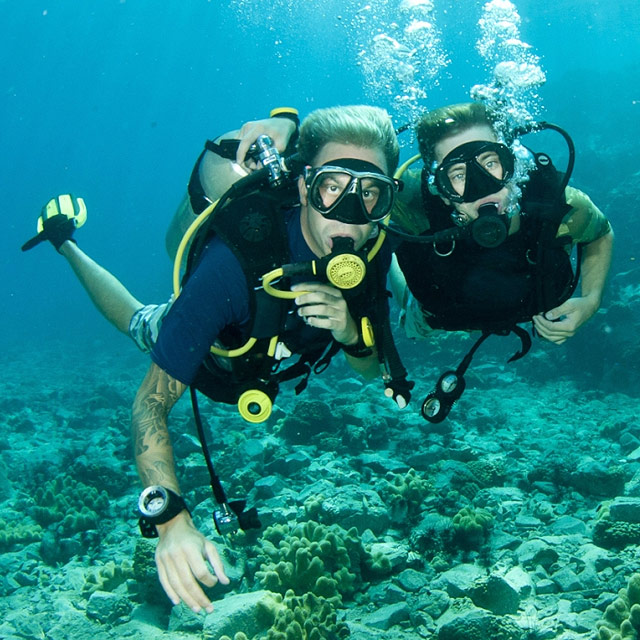 Dive-dedicated yachts
These are yachts, small or large, that are completely equipped to fulfill the needs of avid divers. These yachts are for experienced or novice divers who want to make diving the focal point of their charter vacation. They have sufficient tanks for two dives per day, scuba equipment; and an insured, experienced dive professional. If you, or a member of your party needs any kind of training, from Discover Scuba (Resort course) or Openwater checkouts (Referral course), to Advanced or Specialty certifications, then one of the crew must be a dive instructor. Most of the dive-dedicated yachts have an onboard dive compressor or an efficient plant for ensuring a regular supply of airfills for the desired number of dives your party requires.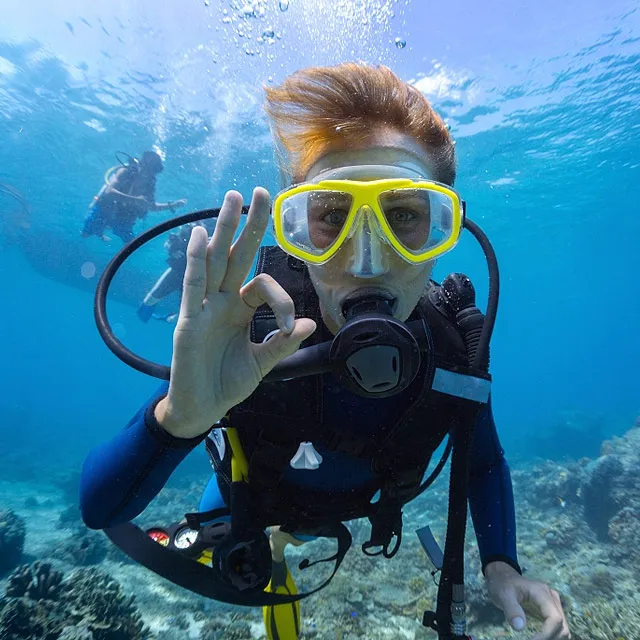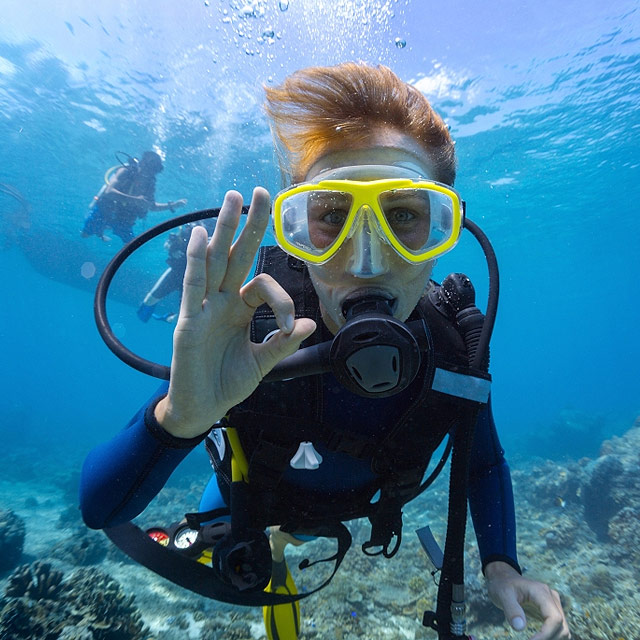 Dive-oriented yachts.
These are yachts who are seriously interested in having divers aboard, but who have not made the full commitment that the dive-dedicated yachts have in one or more of the important areas of equipment, airfills, or instruction. There must, however, still be an insured diving professional (dive master or dive instructor) aboard, and if any training is to take place then the dive professional must be an instructor.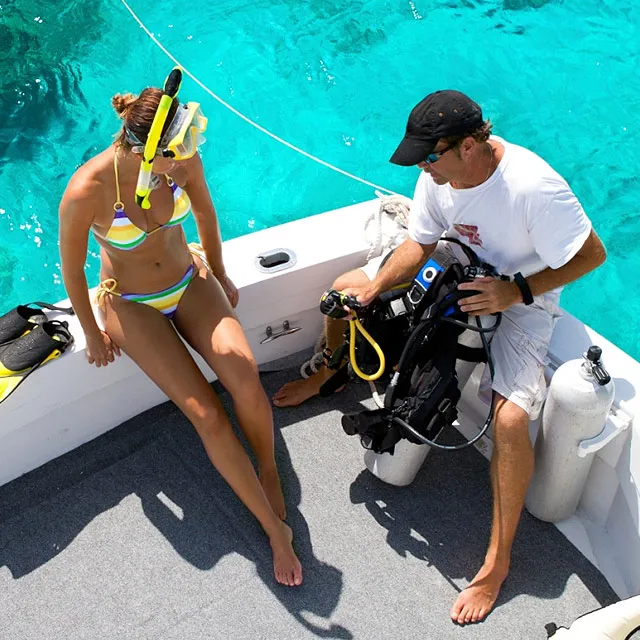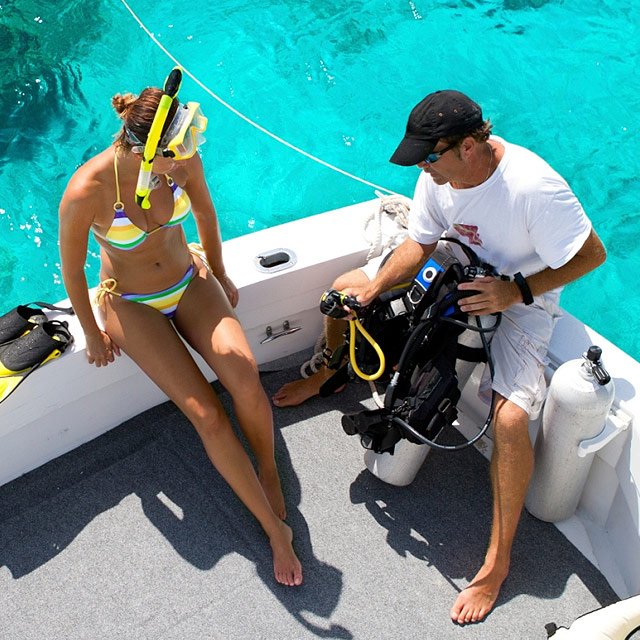 Rendezvous diving
Any yacht in the fleet can coordinate with shore-based operations throughout the US or British Virgin Islands to take interested members of your party for a morning or afternoon of diving activities, subject to availability. Most dive centers are willing to drop off the divers at a different destination than where they picked up, thus allowing the non-divers to sail to a different anchorage if desired, while the others are diving.
There are many options for a non-certified diver aboard a dive charter yacht from those who want to experience diving (testing the water, so to speak!) to those who desire to take a full Openwater Diver Course and become certified on their vacation.
Discover Scuba Diving with a 'Resort' course.
This course is designed to introduce the dive experience. It consists of an orientation, teaching of fundamental skills in calm water shallow enough to stand up in, and a controlled dive under the supervision of the instructor to a maximum depth of 40 feet.
Open Water Diver Course.
This is the basic scuba diving certification level. The course consists of three parts:
Academic training by textbook, lecture, and video, with accompanying quizzes and tests
Water skill training in calm, pool-like conditions
Open Water Checkout Dives which are four to five dives with prescribed exercises to be accomplished in each dive.
Referral Course 'Open Water Checkout Dives'.
This is the ideal and most popular way to become a certified diver. The student diver takes the academic and pool sessions at home with their local dive shop and completes the Open Water Checkout Dives in the warm, clear water of the Caribbean. This allows more time for diving and other activities rather than bookwork.
Ages 8 and over may participate in PADIs Bubblemaker program. Maximum depth limit of 6 feet.
Ages 10 - 11 may participate in Discover Scuba experience programs and can earn restricted certification as either a PADI Junior Scuba Diver or Junior Open Water Diver. PADI Junior Scuba Divers are limited to a maximum depth of 40 feet and may only dive with a PADI Professional. PADI Junior Open Water Divers are also limited to 40 feet, but may dive with a PADI Professional or a certified scuba diver parent or guardian.
Ages 12 - 15. Divers in this age range earn junior certifications and can dive only when accompanied by a certified adult scuba diver. During training, these divers are limted to 40 feet for Dives One and Two and 60 feet for Dives Three and Four. Divers in this age group are limited to a 70-foot depth for all other PADI continuing education courses.