The entries are in for the 2014 edition of the St Barth's Bucket Regatta with a fantastic fleet set to head to the beautiful island of St Barthélemy.
38 of the world's largest sailing superyachts, including a number of the latest launches from the world's premier shipbuilders, will come together in Gustavia for three days of sailing, friendly competition and shore-side antics later this month.
Two recently launched Perini Navi yachts designed by Ron Holland have joined the fleet. The new 40m charter yacht STATE OF GRACE and the new 60m superyacht SEAHAWK will be easily distinguishable by their magnificent profiles.
Making their Bucket debut's in St Barts are two 2012 launches from the Royal Huisman Shipyard. The classic Spirit of Tradition 38m sloop PUMULA and the 49m Ketch KAMAXITHA will be competing against one another, both of which are Dykstra Naval Architects designed.
The brilliant green-hulled 36m carbon fiber sloop INOUI by Vitters will pace the fleet around the various courses. Also from Vitters, the 46m Sloop GANESHA will be making her racing debut.
These six new launches will join their 32 competitors, most of which have sailed in several Bucket Regattas in the past, to form another Bucket superyacht fleet of historic proportions.
Registration will open at 09:00 on 27th March with a "Rules Review" seminar and following a day of practice sailing, learning and taming the ropes will come the Skippers Meeting, Welcome Party and Owner's reception. After Friday's racing, at 17:00 a presentation will be given by the Environmental Agency of St Barths and the NGO Megaptera, which will then be followed by the Fleet Open House, a traditional highlight of all Bucket events. Saturday night will host the annual Bucket Bash on the Quay of Gustavia with a tropical theme. Incorporating dining, dancing and music by the popular Soley, the party will carry on well into the night.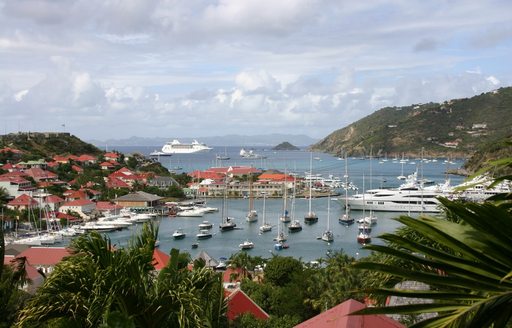 In typical Bucket Tradition, racing will be pursuit style with the slowest yachts starting first. The fleet is divided into four classes: Les Grandes Dames, Les Mademoiselles, Les Elegantes and Les Gazelles des Mers and competition will be within each class. All yachts will have the same start and finish line and will sail the designated course depending on their specific class.
Handcrafted, limited edition Chelsea Clocks will be awarded daily to the four class winners, with second and third places within each class also receiving elegant trophies. The overall winner will have the yacht's name added to the St Barths Bucket trophy and will receive a beautiful crystal Bucket keepsake trophy.
Talk to your yacht charter broker more information on this exhilarating event or to organise a regatta charter. Read our full guide on the St Barts Bucket Regatta 2014 and see the full range of yachts available to charter in and around St Barts.
---