With the announcement in today that Project 'Palo Alto', a 112m/367ft superyacht now under construction at Lürssen was commissioned by an experienced charterer, we take a look at the benefits of chartering before buying.
Ultimate freedom, unsurpassed privacy, extensive amenities and absolute comfort – the superlatives associated with superyachts are plentiful. For those who have been lucky enough to embark on a luxury yacht charter for themselves, more often than not they will continue to make this their vacation of choice. Even the most luxurious of land-based resorts can rarely compare to the experience of life at sea where dream itineraries, endless activities, five-star service and memories with loved-ones are at your fingertips.
The term 'built for an experienced Owner' is regularly used when describing superyachts, usually referring to a person who has already Owned or collects yachts and therefore has obtained the knowledge and standards to maintain, upgrade and commission high quality vessels. Yet with the charter industry continuing to go from strength to strength, appealing to an expanding client base and exposed to wider international markets, charterers are increasingly moving into the sales and new construction of yachts with confidence.
The impressive project 'Palo Alto' announced by Moran Yacht & Ship is one of these yachts, commissioned by a long-time charter client who has previously enjoyed vacations on board some of the 'largest and highest quality motor yachts in the world'. This experience has led to a solid understanding of what they required from their own superyacht in terms of layout, styling, facilities and specific priorities while cruising.
Yacht brokers regularly advise chartering before buying a superyacht and it can often be the most luxurious a best-equipped charter yachts that are built by seasoned clients. Charterers, whether they have been enjoying the same yacht every summer for years or have experienced a range of different vessels will have a strong understanding of the market and what people are looking for when they hire a superyacht.
The 85m/279' 2013-built SOLANDGE is a shining an example of this, built by an Owner with a clear vision of what she would be and who she would appeal to, ultimately leading to the construction of an exceptional superyacht that has been nominated for some of the most prestigious awards in the industry.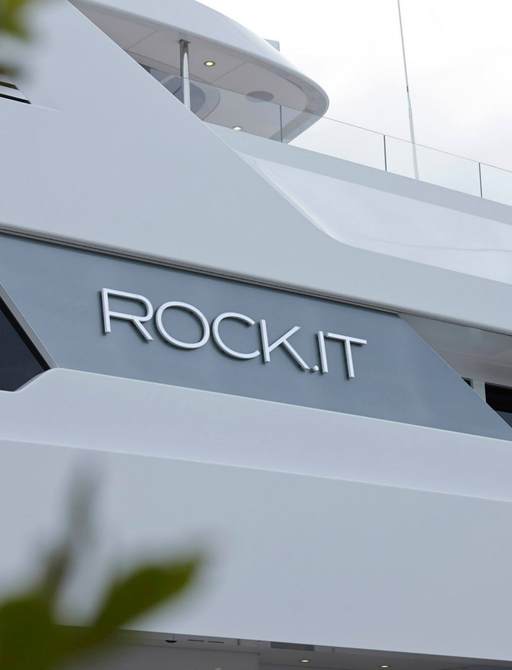 Chartering can also result in an appreciation for a certain type of yacht builder which can be a great place to start when considering building your own one. The Owner of the recently launched 60.35m/198ft motor yacht 'ROCK. IT' had previously rented a number of Feadship-built charter yachts and as such had recognised the quality, essence and pedigree of the Italian builder. This developed into what the shipyard described as 'raising the bar of what can be achieved in an entirely bespoke project' with the Owner showing an intense interest in all aspects of the build.
The quality of new-build superyachts continues to break ground with every launch announced so it makes sense that the more experience an Owner has within the industry, the more successful their input into the final result. Obviously the vessel need not be the largest vessel on the market or equipped with submarines and swimming pools, but having an idea of your own priorities and needs will set you in good stead for any project.
For further information about any of the yachts mentioned or to discuss chartering or commissioning your own superyacht, contact your preferred yacht charter broker.
---