Venice & East Italy Yacht Charter Guide
A haven of sheer seduction
Steeped in opulence and sleek sophistication, the east coast of Italy is laced with jewel-like cities, towns and secluded bays strewn along the Adriatic Sea. Teeming with history, culture and a wealth of captivating sights, this stunning region is as elegant as it is extravagant.
Reasons to Visit
Venice & East Italy
Spectacular Vineyards
Art History
Lustrous Beaches
Boutique Shopping
Baroque Churches
Chic Cafés
Beautiful Countryside
Nestled in the northern corner of the Adriatic Sea, lies the shining city of Venice. This guaranteed highlight is a city brimming with Venetian ports, chic civic buildings and beautiful architecture. Cruise along the picture perfect Grand Canal where tranquil waters are adorned by astounding ivory palaces. Primarily dominated by boats and gondolas, Venice boasts many marinas within the lagoon providing excellent access to the city with the opportunity to anchor close to St Mark's Square, right in the heart of the city. Meander around some of the most elegant streets in the world where a plethora of boutique shops and captivating historical sights await. Deemed as one of the most romantic cities in the world, Venice is unrivalled in beauty and encompassed by a mirage of striking scenery and astounding landscapes. Admire the abundance of beautiful bridges with more than 400 of them linking the stunning isles of Venice and more than 150 canals to amble along.
Cruise along the gorgeous arced coastline from Venice to Trieste and let the cultural influence and Venetian splendour envelop you. Close to the border with Slovenia, this location boasts an eclectic mix of architecture, scenic views and exquisite cuisine. Venture southwards down the Adriatic Sea before reaching the stunning destination of Ravenna. Steeped in art and culture, Ravenna has become one of the most glamorous cities in the Mediterranean. From Ravenna, meander along to the seaside destination of Rimini. A livelier town in comparison to its artistic neighbour, Rimini radiates exuberance and has long inspired writers and artists with its majestic buildings and enchanting countryside.
Discover the captivating history and unspoiled beaches which surround the port town of Ancona before enjoying the dramatic landscape scenes of Puglia. Rustic and secluded, this undiscovered corner of Italy boasts empty beaches, baroque churches and picturesque views making for a sumptuous and indulgent charter destination.
+  Read More
Other areas within the West Mediterranean:
---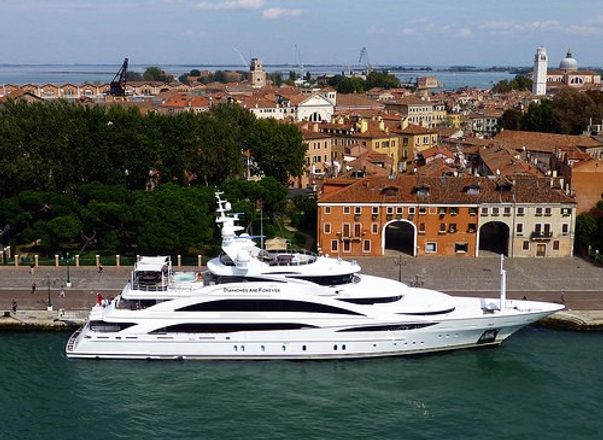 4 of the Best Places to Dine during the Venice Film Festival
Next week the glamour will descend on both the red carpet and harbour, as the 72nd Venice Film Festival brings the A-list stars and superyachts to Italy. Enjoying the oldest and one of the most prestigious film fes...tivals in the world only calls for the most exquisite dining experience, and YachtCharterFleet have handpicked four of the most taste bud-tantalising options below....
Read More