Content Related To: Caribbean Yacht Charter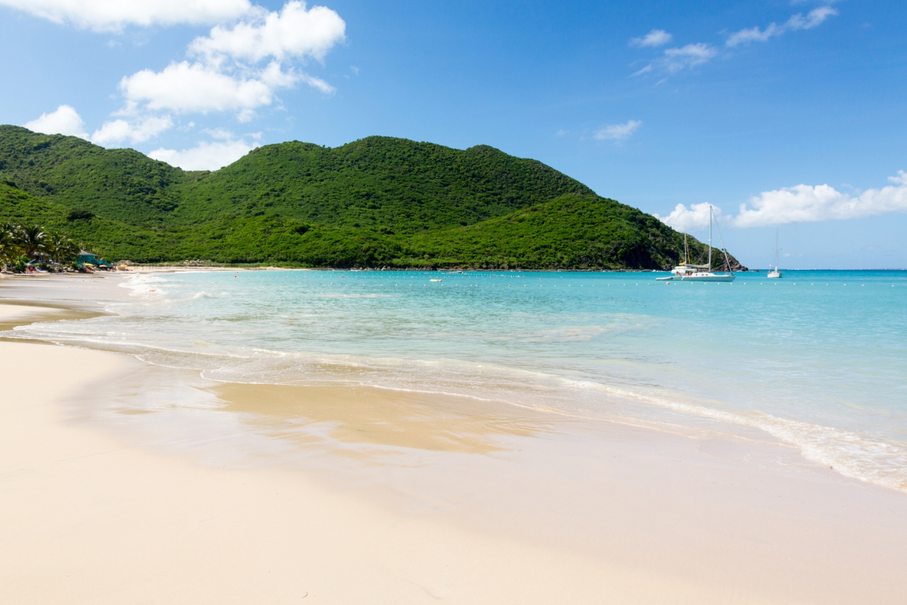 The Caribbean has long been one of the most popular yacht charter destinations due to its abundance of gorgeous beaches, laid back atmosphere, delicious fresh food and energetic culture all creating a perfect winter escape.
The vast blue of the Caribbean Sea is covered with paradise islands stretching over 1,000 miles between North and South America, each ideal for exploring countless beaches fringed with swaying palm trees, coral reefs, charming villages and dazzling scenery. It is an ideal place to enjoy life on board a luxury yacht as well as some exploration below the water line amongst a myriad of marine life.
This combination of balmy climate and idyllic appeal each year attracts many of the world's most impressive superyachts including luxury charter yachts which migrate from the Mediterranean cruising grounds in October at the end of the summer season. From the beautiful Bahamas to the glorious Windward Islands, there are is an exciting selection of itinerary options to choose from to suit all manner of requirements.
View all Caribbean Luxury Yacht Charters available to rent for a private yachting vacation in the region.
All
news
event
destination inspiration
Freshly refitted 46m superyacht STEALTH joins Caribbean charter fleet

In turnkey condition following her extensive refurbishment in 2021, the 46m (149'11ft) superyacht STEALTH now makes an impressive entrance onto the Caribbean charter fleet. She will be welcoming guests onboard this winter, making her a perfect pick for Thanksgiving, Christmas and New Year yacht rentals.

55m superyacht GALENE available for BVI yacht charters

Discover the lush islands of the British Virgin Islands on a luxury winter vacation aboard the sleek 55m (180ft) superyacht GALENE, which was delivered in 2020 as part of Amels shipyard's hugely successful 180 Limited Edition series and has proved a massive hit on the yacht charter circuit ever since.

Bahamas charter special: last-minute availability for 46m superyacht ATTITUDE

A family and friends favourite thanks to her exceptional leisure facilities 46m (150ft) superyacht ATTITUDE has a few weeks remaining in October and November for the much-loved cruising grounds of the Bahamas. Packed bow to stern with excellent facilities, this motor yacht is an outstanding charter vessel that astounds with her idyllic blend of indoor and outdoor spaces.

Freshly refitted 48m BIG SKY now available for Bahamas yacht charters

The stunning tri-deck superyacht BIG SKY, first delivered in 2010 and recently refitted in 2021 to an immaculate condition, has joined the Bahamas charter fleet. Packed bow to stern with excellent facilities, this motor yacht is a wonderful vessel that astounds with her exceptional indoor and outdoor spaces. She is a proven world cruiser and a longstanding charter favorite.

Relaunch of 40-meter classic Feadship CETACEA

Following a major refit at the Roscioli Shipyard in Fort Lauderdale, USA, the 40-meter classic Feadship yacht CETACEA is now in turnkey condition to welcome guests on board for a luxury Caribbean yacht charter. 

62m Feadship yacht SEA OWL joins the luxury charter fleet

After celebrating her debut at the recent Palm Beach International Boat Show, the 62m (203ft) motor yacht SEA OWL is now being made available for charter for the very first time around the turquoise waters of the Caribbean and Bahamas.

Last minute Caribbean yacht charter opportunity onboard superyacht AIR

There is no better way to discover the hidden treasures of the Caribbean than onboard the luxurious 81m (265ft) Feadship yacht AIR, which has just revealed some rare last-minute availability in the first and last two weeks of March. Trust us when we say you don't want to miss the opportunity to charter this incredible superyacht.

Celebrate New Years in style onboard 86m sailing yacht AQUIJO

Known as the world's largest high-performance ketch sailing yacht, the 86m (282ft) AQUIJO offers an enticing combination of luxury and adventure. Cruising around the glistening waters of St Barts this winter, what better way to round off the year than onboard this impressive charter yacht?

50m luxury yacht ARKADIA joins Caribbean charter fleet

Distinctly sophisticated and elegant from bow to stern, the 50m (163ft) superyacht ARKADIA is now available for once-in-a-lifetime yacht charter vacations where she will be cruising the sun-kissed Caribbean all year round.

Bahamas announce new yacht charter tax

After the 1st of July 2022, any yacht charter contract signed is subject to the new 10% VAT in addition to the already existing 4% Bahamian tax. With this new tax now in place, what does this mean for luxury yacht charter vacations in the Bahamas?

31m yacht VIVACE joins the ranks for luxury Bahamas charters

Freshly delivered to her Owner, the 31m (102ft) yacht VIVACE is the second unit in Alpha Custom Yacht's Spritz 102 Series, following in the footsteps of her award-winning sistership ANDREIKA VI. She now joins the charter fleet around the stunning islands of the Caribbean and Bahamas for the perfect idyllic getaway this season.

BVI charters: Bitter End Yacht Club reopens its doors

Looking fresh as a pin, with a raft of extra features, the Bitter End Yacht Club in the British Virgin island's idyllic Virgin Gorda has finally reopened and is now welcoming yachts to experience her upgraded facilities in style. 

Last-minute Caribbean charters available with 58m superyacht ILLUSION V

Delivered in 2014 by esteemed Italian shipyard Benetti, the 58m (190') yacht ILLUSION V is an award-winning yacht that's committed to alfresco living. Furthermore, her wide range of lifestyle-focused facilities make her the perfect hostess for a luxury vacation, with the Caribbean presenting the ideal destination for escaping the crowds and finding some glorious respite from the pandemic this winter.  

57m yacht HALO offers wellness focused charters in the Caribbean

Delivered in 2015, the custom 57m (188ft) Feadship yacht HALO is packed bow to stern with charter-focused amenities, with the extra bonus of specialist crew on hand to offer personal training, yoga sessions and indulgent massages as part of the overall package. With availability still remaining around the heavenly turquoise cruising grounds of the Caribbean and Bahamas, this could be the ultimate winter retreat that you've been dreaming of.

Superyachts descend on St Barts for New Year's Eve festivities

Once again proving the hottest ticket in town, superyachts have been flocking to the picturesque harbor of Gustavia on the Caribbean island of St Barts to ring in 2022. Promising an epic night of New Year's Eve parties, celebrities from Jeff Bezos to Dua Lipa have already been spotted doing the rounds on the iconic French isle.

Caribbean special offer aboard 82m charter yacht SECRET

Delivered by the esteemed German shipyard Abeking and Rasmussen in 2013, with an extensive refit in 2018, the 82m/271ft motor yacht SECRET is currently offering a discounted rate of 10% for 7-day charters and 20% for a fortnight around the beautiful islands of the Caribbean this winter.

Freshly refitted 45m motor yacht AUDACES joins Bahamas charter fleet

Fresh out of her most recent refit and featuring a fabulous brand new beach club, 45m motor yacht AUDACES joins the Bahamas charter fleet with a bang. Built in 2014, she will be in the Caribbean or the summer and winter cruising season in 2021, before reaching the glittering shores of the Mediterranean in time for summer 2022.

Freshly refitted 40m motor yacht JOMAR joins Caribbean charter fleet

A freshly refitted delight, 40m (130ft) sporty motor yacht JOMAR has just joined the Caribbean charter fleet. Built in 2007 by Overmarine and last refitted to a pristine condition (including all-new interiors) in 2019, she makes an exciting addition to these idyllic cruising grounds. She boasts a shallow draft that makes her a wonderful choice for the shallow waters of the Bahamas and beyond, and she also happens to be the only Mangusta available for rental in the entire Caribbean.

Dates announced for the first Caribbean Charter Yacht Show in 2021

Exciting news: the dates have just been released for the very first annual Caribbean Charter Yacht Show. Held in partnership with the IGY Yacht Haven Grande St Thomas and the International Yacht Brokers Association (IYBA) the charter show event will take place later this year, from December 9-12.

Thanksgiving Yacht Charter Availability

There are three motor yachts currently available for charter during the Thanksgiving holiday season in the Caribbean or the Bahamas: the 130ft/39m motoryacht W, the 142ft/43m motoryacht 'Lady J' and the 130ft/39m motoryacht 'Sweet Escape'

Les Voiles de St. Barth 2015 Starts Today

Eighty participating boats, 1,200 sailors, and 5 superyachts over 78ft will battle it out as the 2015 Les Voiles de Saint Barth celebrates its 6th edition this year from April 13-18.

Caribbean Special Offer on Charter Yacht SWAN

The magnificent 60m (196'10) Benetti motor yacht Swan is offering significantly reduced rates of $295,000 per week down from $420,000 per week for charters in the Caribbean from the 7th February until mid-April 2014.

Charter Yacht TELEOST in the Caribbean

The 49m/160'8 motor yacht TELEOST has recently completed a full interior refresh to ensure she is in pristine condition for charters in the Caribbean this winter.

S/Y ATHOS Available for Racing Charters

The magnificent 62m/203' ATHOS is available for Thanksgiving in the Caribbean and can be chartered for a number of exciting regattas throughout the winter season.

'PAMELA V' yacht new to Charter Fleet

The 2011 built Hakvoort motor yacht PAMELA V is the newest edition to the global charter fleet and will be available in the Caribbean from January onwards.

Sailing Yacht CAMPAI Completes Refit

The 22m/72' sailing yacht CAMPAI has now completed a month-long refit and is available for charters in the Caribbean this winter alongside her brand new crew.

EXCELLENCE Yacht Refit Completed

The 45.72m (150') motor yacht EXCELLENCE has recently benefited from a full interior refurbishment by her new owner to ensure she is in perfect condition ready for her winter charter season in the Caribbean.

QUEEN SOUTH III in the Caribbean

Motorsailor QUEEN SOUTH III (QUEEN SOUTH) will be available for charter for the first time in the Caribbean this coming winter.

Charter Yacht SEALYON Special Offer

Luxury motor yacht SEALYON is offering a very special reduced rate of US$80,000 per week for her delivery run from the Bahamas to the British Virgin Islands in early to mid-December.

M/Y SERENGETI in Caribbean and Alaska

The 39m/128' motor yacht SERENGETI is available for charters in the Caribbean this winter season before cruising to the US West Coast in spring, ready for bookings in Alaska over summer 2014.

Caribbean Regattas on CAPE ARROW

The 30m/98'43 sailing yacht CAPE ARROW will be relocating to the Caribbean for the winter season and is available to take part in the regatta circuit.

Charter PURE ONE in the Caribbean

The stunning 46.2m (151'6) performance cruiser PURE ONE will be available for charters throughout the Caribbean for the winter season.

Sail Yacht METEOR in Caribbean

The magnificent 51m/167ft sailing yacht METEOR will be available for charters in the beautiful cruising grounds of the Caribbean this winter.

M/Y ISLANDER in the Caribbean and Bahamas

The impressive 58m/190' luxury motor yacht ISLANDER is available for charter in the Caribbean or Bahamas over the winter holiday period at $240,000 per week, for a minimum booking of 10 days.

Caribbean yacht charter: Sint Maarten vs Saint Martin – Vive la difference!

Famous for being the smallest landmass in the world shared by two sovereign states, the beautiful island of St Martin is renowned for its split personalities; at once lively and laid-back, decadent and idyllic, and is a popular destination for Caribbean yacht charters. We take a closer look at some of the celebrated traits that make up both the Dutch and French side of this rather unique tropical isle.

How to spend 24 hours in St Barts on a Caribbean yacht charter

Saint Barthélemy, or St Barts (St Barth to the French) is well known for its moniker "the St Moritz of the Caribbean" due to its unique Swedish-French colonial heritage, and is synonymous with glamour, movie stars and designer shopping. However there is so much more to this idyllic island than the luxury boutique resorts and private villas that peek from behind veils of tropical foliage, it also boasts a laid-back charm with vibrant street cafes and endless stretches of platinum sand beaches fringed by warm turquoise waters, making this tiny slice of paradise the perfect destination for a luxury yacht charter.

10 top spas to enjoy on a Caribbean yacht charter

There are few better ways to feel completely reinvigorated and pampered than through having a spa day. During your Caribbean yacht charter, there are an abundance of spas to choose from that are easily accessible by yacht. Here is our round-up of the best spas to enjoy during your superyacht vacation in this alluring tropical hotspot.

Exploring the designer boutiques of St Barts during a luxury yacht charter

Famous for its spotless beaches, decadent restaurants and incredible shopping, Saint Barthélemy is a playground for the rich and famous and makes for a blissful yacht charter during the winter season. Read on to discover the very best boutiques to check out during a St Barts superyacht charter.

The ultimate guide to US Virgin Islands luxury yacht charter vacations

A US Virgin Islands yacht charter delights guests with its dizzying natural beauty. Comprised of three major islands – St. Thomas, St. John and St. Croix – they boast enough variety to please even the most discerning of travelers on a luxury yacht vacation. Here's our round-up of the best things to do during your superyacht charter in the US Virgin Islands.

Five Reasons to Visit the Caribbean on a Luxury Yacht Charter in Late Spring

From local carnivals to international sailing regattas, there are many reasons to visit the Caribbean in late spring on a luxury yacht charter, despite the region's peak season drawing to a close. With so much to see and do on this beautiful tropical island, read on to discover why you should visit the Caribbean by superyacht during this time.