The 106m/348ft motor yacht DREAM has been delivered after being completely rebuilt from the shell up at Greek yard Chalkis Shipyards S.A., transforming from a passenger ferry to a totally brand new six-deck superyacht of the highest standards imaginable.
The major conversion of superyacht DREAM began in Greece back in 2008 and, following her recent delivery, at 106 metres, she ranks as the 37th largest superyacht in the world. Very few details about the yacht have been revealed yet, but we have managed to glean together information from various sources.
The conversion at Chalkis Shiparyd S.A., located an hour's drive north of Athens, involved the complete redesign and rebuild of her hull and superstructure, fulfilling today's impeccable superyacht standards.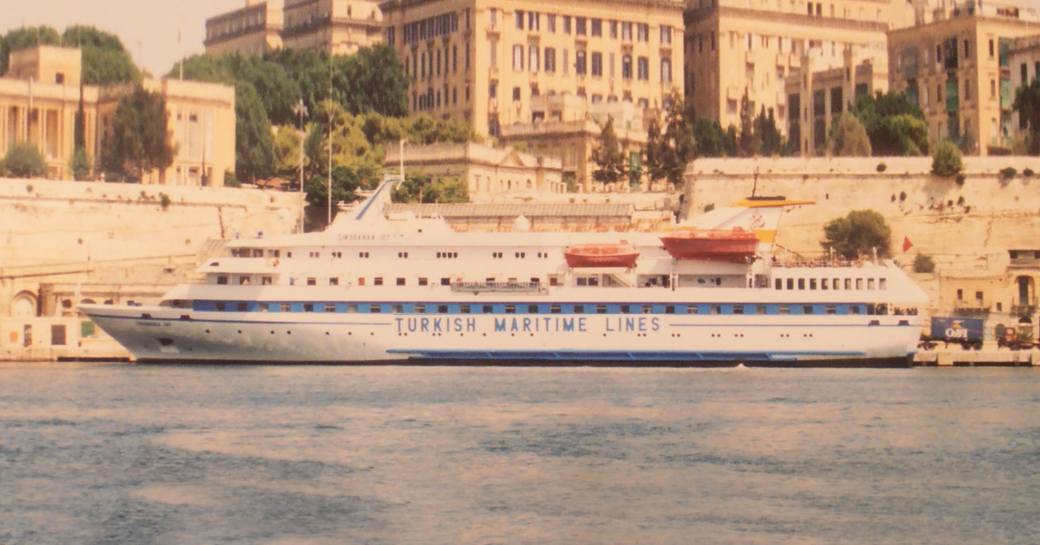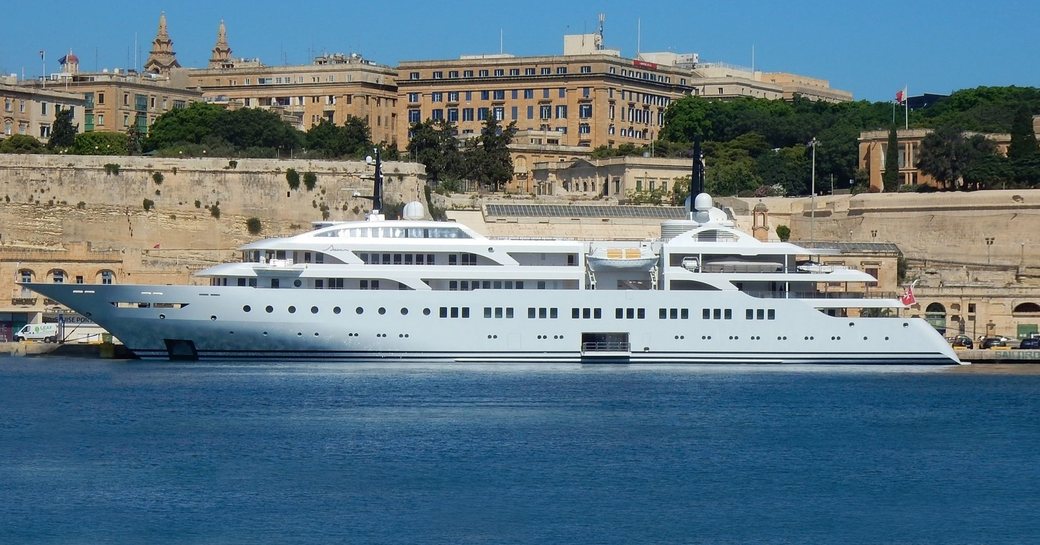 From the photos, you can see how the bow has been lengthened and heightened significantly and now boasts a much more streamlined shape akin to other modern-day superyachts.
DREAM's stern was also re-shaped. The original was cut off and a new, longer section was added to incorporate a large beach club, which is revealed by the opening of a new transom door. In total, these changes have added an extra 13 metres onto her length as before the refit she was 93 metres.
The brand new superstructure completely diverges from her old one. With flowing lines and curves, it is what one expects from a newly launched yacht.
Aerial photos reveal what she looks like from above. What's interesting is the two helipads. The one located aft is expected to be fully certified, while the one on the foredeck is more likely to be touch-and-go.
For the brand new interior, the owner selected top designers Simone Ciarmoli and Miguel Queda of Milanese interior design firm Ciarmoli Queda Studio (CQS).
The duo has previously designed shops for high-end brands such as Jimmy Choo and Montblanc, as well as the 31m/102ft motor yacht CARAMEL from Numarine. They are expected to have worked on DREAM alongside Greek contractor MVS Associates, which built the interior.
Thanks to her generous volume, DREAM is thought to boast an impressive 23 staterooms, as well as a fifth deck owner's suite. If so, she will be able to sleep around 48 guests and possess the necessary license to make this possible. This is unlike most superyachts on the charter market which can only sleep up to 12 guests.
The overall theme of the living spaces aboard DREAM is said to be retro-modern. At first the owner was keen on a classical look, with dark woods and marble pillars. But, in the end, the owner was happy to embrace the designer's efforts to merge his needs with their more contemporary aesthetic.
Ciarmoli and Queda started by selecting a wood to fulfil their design brief and went with tay, which is a light cappuccino colour. This is expected to have been used across both the interior and exterior, complementing a neutral palette highlighted by aqua and jade tones.
Other materials used include red carpazi marble floors, veneers by Italian firm Tabu, handmade carpets by Ferreira de Sa, leathers and stainless steel. With this in mind, the overall feel is expected to be light, modern and exceptionally luxurious.
One of the main focal points is a grand central lobby and staircase, which creates a feeling of immense scale as soon as guests step on board
Stepping into the fourth deck via the aft deck, guests will enter a 400-metre-square salon. This leads forward onto a reading room, cinema and a bar with a card table and seating for 25 people.
Past the lobby, the dining areas await. These include a 100-metre-square main dining salon, a smaller Japanese-style one with a teppanyaki grill and a more intimate, private dining salon for eight people.
Not to be forgotten is the grand central lobby and spiral staircase. When guests step on board via the main deck, this will immediately showcase the immense scale of the superyacht and it is thus one of the main focal points of superyacht DREAM.
Unlike the other areas of the interior, this is said to have been designed in a more classical way with marble paving and a backdrop of laser cut and backlit glass.
From the staircase, those staying on board will be able to access the 23 guest cabins located on the third deck. The fifth deck owner's suite, meanwhile, features a dining salon, office, 100-metre-square cabin and adjoining sitting room, spanning across 240 square metres in total. There are also 19 crew cabins on the second deck.
A business centre, gym, spa and diving centre are among the other luxurious amenities expected to be found on board.
The motor yacht continues to wow across her exterior deck areas. One of the highlights is an expansive sundeck with a swimming pool, places to relax in the sun and a huge bar.
On the fifth deck aft, adjoined to the owner's suite, there is space to host 44 guests around two teak dining tables, alongside further seating options. Another bonus is an oversized beach club on the lower deck where guests will be able to unwind close to the water's edge and access the water toys with ease.
The trend of converting vessels, whether it be a passenger ferry, cruise liner or frigate, into a superyacht is quite common. The most iconic is the 99m/325ft classic yacht 'Christina O' and she is joined on the charter fleet by a number of other conversions.
The superyacht is reported to be a lifelong dream for the owner who, after committing his career to the marine industry, decided it was time to dedicate a yacht to himself. Speaking to TVM, he said: "DREAM, the name gives the definition, it was a dream that I had since I was seven years old. So to build a boat and visit the world."
It is not yet known whether or not M/Y DREAM will be available for charter. YachtCharterFleet will be sure to keep readers updated on the situation.
For more information on chartering a converted superyacht, speak to your preferred charter broker.
---