Luxury Catamaran Charter
What is a Catamaran?
A catamaran yacht is a multi-hulled vessel, which unlike a mono-hulled yacht combines two hulls as opposed to one, ideal for entering shallow waters such as the Caribbean and Bahamas. The two hulls are known as pontoons and are often constructed from fibreglass. Connected by a rectangular deck, the two pontoons of a catamaran are large enough to accommodate full size cabins, en suite facilities and comfortable living areas, all discreetly hidden by the classic and timeless looking exterior.
A catamaran charter can be sail or engine powered and offers more stability than a mono-hulled sailing yacht or motor yacht due to the vast hull space. This revolutionary design is a modern take on traditional sailing yachts that provides comfortable cruising and is rapidly gaining popularity, particularly amongst those prone to seasickness.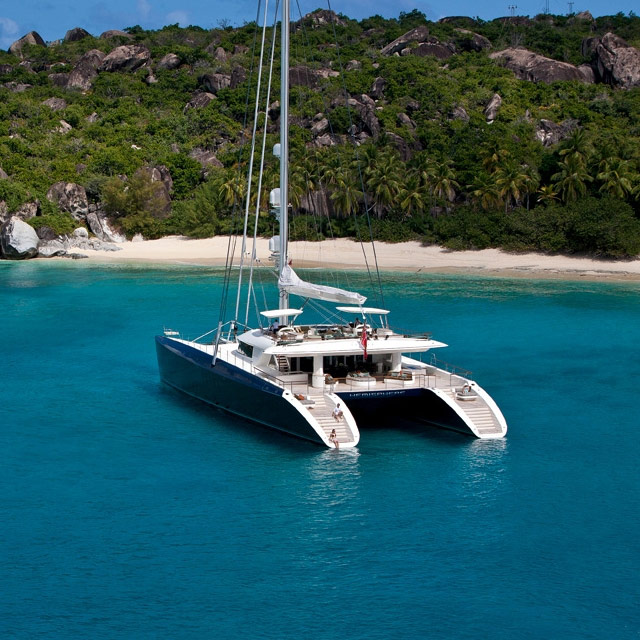 Similarly to that of a sailing yacht, a catamaran sailing yacht is predominantly propelled by wind power which is captured by the mainsail. In terms of speed, a catamaran can travel faster than a sailing yacht due to their needle-like shaped hulls which significantly reduce friction and therefore cut through the water faster. Furthermore, a catamaran is typically lightweight creating less displacement and less drag, perfect for exciting charter vacations.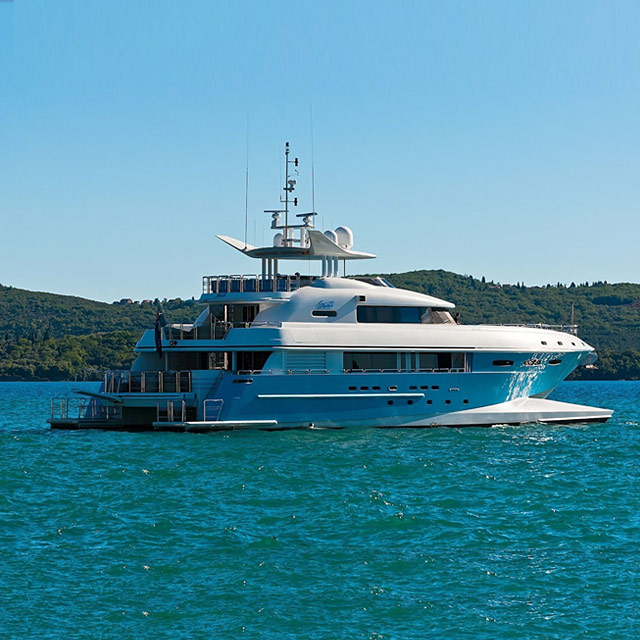 A recent development in catamaran design has seen the evolution of "power cats" which are predominantly propelled by an engine rather than the traditional mainsail. An engine powered catamaran charter yacht boasts the very best features of a motor yacht entwined with the beneficial characteristics of a multihull, usually without the sailing apparatus as it is simply not needed. The layout of a catamaran is typically the same whether sail or engine powered, with a selection of luxurious and comfortable styles to suit you and your party.
Catamaran Yacht Charter
Due to their generous on board space and stability catamaran charter vacations are becoming increasingly popular, providing a compromise for many guests looking to experience the romance of a sailing yacht with luxurious on board amenities associated with a luxury motor yacht. Although the layout of a catamaran is different to that of a sailing or motor yacht, the elegant and stylish interior makes for comfortable stay for charter guests who wish to indulge in the ultimate luxury.
On board a catamaran yacht, the main saloon area tends to be placed in the centre of the deck whilst the staterooms are placed in each hull, one forward and one aft. The large space between the staterooms in the deckhouse creates a sound buffer, ensuring limited disruption to other sleeping guests, which is often a favourable characteristic.
Search for a catamaran charter yacht and begin planning your vacation of a lifetime.